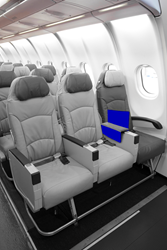 (PRWEB) June 25, 2015
My Plane Space, the newly patented, lightweight space divider, is transforming the flying experience for travelers in coach class. Weighing in at less than 1 pound, the carry-on device offers several benefits. The compact design snaps onto the top of any size airplane armrest, providing an ideal barrier that allows travelers to keep their whole seat without unwanted arm contact.
For coach travelers who have battled to claim shared armrests or sat next to people who lift their elbows into their seat space, My Plane Space serves to keep stray elbows in check while providing neighbors with a comfortable, padded armrest.
As noted in a recent Business Insider article exploring airline attempts to increase passenger comfort, "…airlines continue to shrink seat sizes to fit more passengers on board — and this is especially true in economy class." Since 2013, My Plane Space has been the go-to product for travelers who want to take full advantage of the seat they paid for, and the newly obtained patent reflects the product's popularity.
"The quote 'good fences make good neighbors,' often attributed to Robert Frost, appears in one form or another in many cultures… because it's true," said Chairman Chuck Lavey. "My Plane Space sets out to be the 'fence,' so you and those seated next to you on the airplane can be good neighbors."
My Plane Space is the ideal product for courteous fliers who appreciate their space — especially those who are germ-conscious. According to Auburn University researchers, airplane armrests can harbor germs for up to 4 days – longer than on toilet handles!
My Plane Space is proudly made in the U.S.A., and its surface can be easily cleaned with hand sanitizer in between flights.
For the summer travel season, My Plane Space is available for only $19.95, or 2 for $24.95. Travelers can choose their favorite color from a collection of black, blue, purple and red.
About My Plane Space:
My Plane Space is a travel necessity, featuring a compact, easy-to-travel-with design. By placing it over the middle armrest, flight passengers can maintain their own seat space — plus, they'll still have an armrest to use and will no longer have to put up with elbow jabs. Those in adjacent seats will love it, too, because they not only get a padded armrest, they also benefit from a more comfortable flight by avoiding unwanted space invasion. When it comes to crowded transportation, My Plane Space is there to help.
Find more info at http://www.myplanespace.com, e-mail info(at)myplanespace(dot)com, or connect on social media at facebook.com/myplanespace or twitter.com/myplanespace.