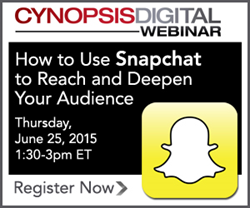 New York, NY (PRWEB) June 08, 2015
The newest Cynopsis Digital webinar, How to Use Snapchat to Reach and Deepen Your Audience, on Thursday, June 25 will explore the ways in which Snapchat can work for agencies, networks and media companies. With the addition of Snapchat's Discover feature, companies can truly optimize brand engagement by sharing stories with the coveted 13-25 year old demographic.
Cynopsis Digital Associate Editor Jessica Reese will host the June 25 webinar along with the following speakers: Kerry Perse, Director of Social Media Onboard at OMD; Alan Beard, Co-founder of Fullscreen social agency McBeard; and Alexis G Zall, a social influencer (Twitter, YouTube, Snapchat, Facebook) who has more than 300k followers!
Attendees will leave this 90-minute webinar with the know-how to:

Create fresh, dynamic content that plays to Snapchat's particular characteristics and strengths
Determine whether stories vs. videos vs. photos will deliver your message most effectively
Build a muscular base of followers
Measure the effect of your brand's engagement
In addition, the session will allow for real time Q&A's to ensure specific questions are answered. Register today for the Cynopsis webinar "How to Use Snapchat to Reach and Deepen Your Audience."
All Webinar attendees will receive full access to speaker presentations for 1 year, along with a certificate of completion. Webinar tuition is based on location, not number of participants, so each registration site can have multiple participants for one low price. Questions? Contact Trish Pihonak at trish@cynopsis.com.
About Cynopsis Media:
Cynopsis Media is a division of Access Intelligence LLC. The Cynopsis Media family of products includes Cynopsis, Cynopsis Digital and Cynopsis Sports daily e-publications, weekly Cynopsis Classified Advantage e-publication, Special eReports, Event/Summits and a strong database of Classifieds and more. Visit cynopsis.com.
###