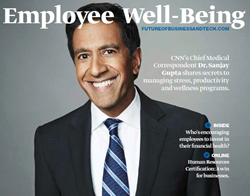 New York, NY (PRWEB) June 12, 2015
Advocating for an increased emphasis on overall employee well-being, the campaign highlights for employers the importance of expanding benefits programs to improve employee health, reduce employee stress and anxiety, initiate a higher level of job performance, develop a greater sense of company loyalty and, in turn, improve their bottom lines.
The print component of "Employee Well-Being" is being distributed as a full-color special section within the June 12th edition of USA TODAY in the Atlanta, Chicago, DC/Baltimore, Los Angeles, Minneapolis, New York, Phoenix and San Francisco distribution markets, with a circulation of approximately 450,000 copies and an estimated readership of 1.3 million. The digital component is being distributed nationally, through a vast social media strategy, and across a network of top news sites and partner outlets. To explore the digital version of the campaign, click here or visit http://www.futureofbusinessandtech.com.
Dr. Sanjay Gupta, CNN's chief medical correspondent, associate chief of neurosurgery at Grady Memorial Hospital, assistant professor of neurosurgery at Emory University School of Medicine, husband, father of three and advocate for employee well-being will be headlining the campaign and adorning the cover of the print publication. In an exclusive interview with Mediaplanet, Gupta details how employee benefits programs help him maintain and improve his physical and psychological well-being, voices his opinion on health screenings and shares his views on how we could improve the healthcare system in the U.S.
This campaign was made possible with the support of WorldatWork, Society for Human Resource Management (SHRM), Health Enhancement Research Organization (HERO), American Medical Group Association (AMGA) and many more.
About Mediaplanet
Mediaplanet specializes in the creation of content marketing campaigns released through multimedia platforms. We provide our readers with insightful and educational editorial in the fields of their interest, designed to motivate them to take action. Our unique ability to pair the right leaders, with the right readers, through the right platforms, has made Mediaplanet into a global powerhouse in content marketing. We continue to explore and expand our network of partners and clients through the shared interest of providing our readers the best experience possible.