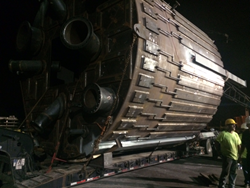 Tampa, FL (PRWEB) June 07, 2015
In mid-May, Tampa Tank Inc.-Florida Structural Steel (TTI-FSS) delivered the world's largest sulfur melter tank from its fabrication facility in Lakeland, Florida, to a plant in central Florida. The tank, with an outside diameter of 21 feet and six inches, is 29 feet and six inches tall and weighs approximately 85,000 pounds.
The 20-mile delivery trek, which took 12 hours over two nights, required teamwork among 12 different companies and 30 people with 21 vehicles. TTI-FSS designed and built a cradle and trailer specifically for the transition. The fontain trailer was fabricated with outrigging ballast supports, which were stacked with 15,000 pounds of ballast plate to drop the tank's center of gravity for stabilization during the trip.
On Friday, May15, after a 9:00 p.m. safety meeting, the tank was released to begin its voyage, which required careful navigation around such obstacles as trees, ditches and power lines and telephone lines. Eight hours later, the tank was three-quarters of the way to its destination. The hardworking team parked the entourage of vehicles at daybreak to comply with Florida Department of Transportation (FDOT) permit regulations.
At 9:00 p.m., the team resumed the journey to the job site, where the tank was delivered at 12:01 a.m. It was off-loaded on Monday morning, May 17, and set in place.
Moving costs for the sulfur melter tank totaled more than $50,000.00, but the bill represented a fraction of what it would have cost to move the tank in pieces and erect it on site. Constructing the tank in the field would have added some $119,857.00 to the contract amount. By shipping the completed tank, the contracting company, Devco USA, saved $63,357.00, in addition to alleviating safety risks and decreasing project completion time.
About Tampa Tank Inc.-Florida Structural Steel (TTI-FSS)
Tampa Tank Inc. was founded in 1953 and acquired Florida Structural Steel in 1984 and combined are now globally recognized specialists in steel fabrication and erection. The company provides complete design, shop fabrication, shipment, field erection, inspection and testing of welded steel products for the petroleum, chemical, pulp and paper, mining, electric power, water and wastewater industries. The company operates across North America, Central and South America, West Africa and the Middle East. TTI-FSS is American Society of Mechanical Engineers (ASME) and American Institute of Steel Construction (AISC) certified. For more information, visit the web site at http://www.tti-fss.com.