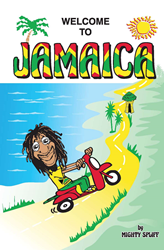 Shellburne Falls, MA (PRWEB) June 17, 2015
Mighty's book "Welcome to Jamaica" is a book about the adventures of a musician and roving Rastamon named Mighty Spliff. Mighty loves to go on vacation, and when he's on vacation he loves to party with his friends and savor his passion for smoking ganja. Unfortunately calamity seems to accompany him on his trips, and Mighty's no stranger to danger. In these stories he finds himself knocking on death's door more than once. Somehow, he prevails.
The vocabulary, spelling, and punctuation used in Mighty Spliff's stories in his book are his own. Mighty writes as he speaks, blending English and the Jamaican Patois (referred to by linguists as Jamaican Creole) he's heard on his many extended stays on the island. Readers are invited to peruse the helpful glossary at the beginning of the book as an introduction to Mighty's vernacular.
The e-book version is available from Bookbaby.com: http://my.bookbaby.com/book/welcome-to-jamaica
The paperback version is available from Mira Digital Publishing: http://www.mirabooksmart.com/Welcome-to-Jamaica_p_605.html
Mighty Spliff is a talented musician and drummer who was born in the United States, but when he set foot on Jamaica, everything changed for him. Over the past thirty years, and through his many visits to the island, he developed a deep appreciation of reggae music and the Jamaican language, Patois, and the people who live there. Mighty now considers himself "Jamerican." While writing his book, Mighty Spliff also recorded his debut self-titled CD, featuring a reggae version of the iconic Led Zeppelin song "Whole Lotta Love."
For more information, visit http://mightyspliff.com/