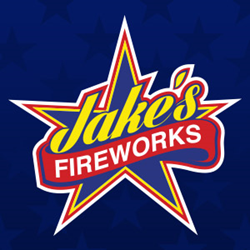 New York, New York (PRWEB) June 08, 2015
Jake's Fireworks, one of the nation's biggest fireworks wholesaler and retailer, will be in New York State to provide consumer grade fireworks to residents, wholesalers and fundraisers starting June 1 and running through July 5, 2015. Jake's will be New York Legal Consumer Fireworks.
Since the 50-year-old ban on sales and use of fireworks was lifted in November 2014, 21 counties have decided to take advantage of the ruling and additional counties are opting in daily.
For more than 60 years, Jake's has been providing fireworks sales, demonstrations and safety guidelines for consumers, wholesalers and event planners from its retail outlet network across the United States. When Michigan lifted its ban on fireworks back in 2012, Jake's Fireworks was there setting up a state-of-the-art retail center in Grand Rapids and tent locations across the state. Today, Jake's has over 150 retail outlets in Michigan, and growing.
The Pittsburg, Kansas-based company will provide the complete "Fountain" line of sparklers, cone fountains, party poppers and other small, consumer grade fireworks for sale through July 5. Since the newly lifted ban dates back to 1965, most New Yorkers aren't familiar with their options when it comes to purchasing fireworks locally. Jake's will be there to bring products and expertise to help ease the transition to a fireworks-friendly community.
Jake's is hiring part-time workers through July 5th to keep up with what is expected to be a large volume of buyers anxious to get their fireworks fix in plenty of time for Independence Day. According to Jared Hicks, Jake's Fireworks' Wholesale regional manager, the most pressing need is to set up a wholesale network with New York-based partners and associates.
"The opportunity is ideal for non-profit fundraising and for individuals looking for extra income over the summer," Hicks says.
Legal in 46 U.S. states and with more than $800 million in annual revenues, the U.S. fireworks industry is something of a novelty to New York State residents this year. Hicks says that in addition to the five-week summer fireworks season, sales will take place this winter from Dec. 26, 2015 to Jan. 2, 2016.
Jake's will service New York State from its many wholesale warehouses, across the United States.Those seeking summer employment are encouraged to contact Jake's Fireworks without delay. Visit the Jake's Fireworks website (http://www.jakesfireworks.com/wholesale-fireworks) for more information.
To learn more about Jake's Fireworks and view the extensive range of fireworks products the company offers, visit http://www.jakesfireworks.com.
About Jake's:
Jake's Fireworks is committed to making sure its customers have access to the highest quality consumer-grade fireworks. Jake's offers a huge assortment of fireworks to wholesalers buying for major events, resale retailers, and everyday consumers looking to create their own special fireworks display for a local event or family occasion.
For more than 60 years, Jake's Fireworks has been a fixture in the Pittsburg, Kansas community, providing services that include standard distribution of world class, private label and bulk container fireworks. Jake's Fireworks is known in the industry as an innovator in consumer fireworks, and an enthusiastic supporter of fundraising opportunities, operating its retail fireworks locations for individuals and organizations during peak retail fireworks seasons.