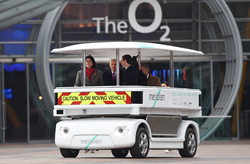 "This is world-changing technology and it makes sense for it to debut at MOSI, our community's resource for science and technology," said Molly Demeulenaere, President and CEO of MOSI.
Tampa, Florida (PRWEB) June 05, 2015
The Museum of Science & Industry (MOSI) in Tampa will offer Bay area residents and visitors the opportunity to experience autonomous vehicle technology, in addition to drones and robots this summer in a hands-on, interactive way. Beginning on Saturday, June 13, guests will be able to ride in a driverless vehicle, and code robots at MOSI.
As guests enter the MOSI lobby, they will be greeted by a Meridian Shuttle, an intelligent vehicle that is a 100 percent driverless and electric shuttle. This experience will be a nation-wide first, as autonomous technology has not been available for the general public to experience until now. While many institutions have provided autonomous technology demonstrations in isolated areas, no one in the United States has a working system that interacts with the organization and their guests. MOSI will be the first in the nation with a working autonomous vehicle system in which guests are able to ride.
"This is world-changing technology and it makes sense for it to debut at MOSI, our community's resource for science and technology," said Molly Demeulenaere, President and CEO of MOSI. "By making these new and developing technologies accessible to everyone, MOSI gives its visitors a sneak peek into their not-so-distant future and inspires our next generation of scientists, engineers and inventors to see that anything is possible."
In Idea Zone, MOSI's inventor's studio, guests will be able to code a variety of motion-interfacing robots to explore simulated off-world terrains and to navigate mazes. These robots will demonstrate a variety of abilities, including artificial intelligence, assistive and rehabilitative technology, and autonomous functionality. Additionally, guests will be able to enjoy MOSI's new Drone Zone, opening July 6, where they can fly, drive and dive commercial drones in the air, on land and under water, while learning about how this technology can help mankind and what kind of concerns are associated with these advances.
The overall experience will touch on some of the controversies that are tied to many of these new technologies. Are self-driving cars able to be hacked? Are drones life-savers or spies?
"There is often a fear surrounding new technologies like autonomous vehicles and drones," said Demeulenaere. "MOSI empowers people to embrace their curiosity regarding these new technologies in a safe and protective environment. These are important conversations happening within the family unit here at MOSI that may not happen in more formal settings."
MOSI's driverless vehicle and robot experience will open to the public on Saturday, June 13, at 10 a.m., while the Drone Zone will open on July 6 at 10 a.m. and is a part of MOSI's newest exhibit, Innovate, a unique experience showcasing the latest discoveries that improve the way we live, work, and play right now and in the future. This experience will be included with the price of admission and free for MOSI members. MOSI admission, which includes the autonomous vehicle, drone and robot experience, 3D Printing the Future, more than 450 hands-on exhibits and one film in the Florida Hospital IMAX® DOME Theatre, is $22.95 for adults, $20.95 for seniors (60+), $18.95 for children (3-12) and children 2 and under are free.
Innovate is sponsored in part by the Department of State, Division of Cultural Affairs, the Florida Council of Arts and Culture and the State of Florida.
###
About MOSI (Museum of Science & Industry)
MOSI is a not-for-profit, community-based institution and educational resource dedicated to advancing public interest, knowledge, and understanding of science, technology, engineering, art and math (S.T.E.A.M.) and is home to the Florida Hospital IMAX® DOME Theatre, the only IMAX dome theater in the state of Florida. MOSI's core ideology is to make a difference in people's lives by making science real for people of all ages and backgrounds. MOSI gives away more than $3 million in free or discounted memberships each year, $250,000 in free tickets annually and approximately 600 scholarships each year for children to attend MOSI Summer Science Camps. Additionally, MOSI's education staff works closely with area teachers offering free training and support for area science educators. With a total size of more than 400,000 square feet, MOSI is the largest science center in the southeastern United States. Learn through play inside Kids In Charge! the largest Children's Science Center in the nation or The Amazing You—a 13,000-square-foot exhibition on health and wellness. Conquer your fears on MOSI's Sky Trail® Ropes Course and Zip Line. Budding inventors can engineer anything imaginable and hold it in the palm of their hand in MOSI's technology playground and inventor's studio, Idea Zone; and aspiring astronauts can travel to the moon to operate a lunar colony in Mission: Moonbase, funded in part by NASA. MOSI is the proud winner of the 2009 National Medal for Museums by the Institute of Museum and Library Services, the nation's highest honor for museums and a recipient of the NOYCE Foundation's Bright Lights Community Engagement Award. For more information on MOSI, visit http://www.mosi.org.