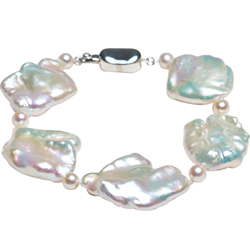 Nishi Pearls' promotion highlights the unique nature of their designs, enhanced by the inherent natural beauty of the pearl that is the focal point of each piece.
Montreal, Quebec (PRWEB) June 05, 2015
Emanating from the depths of waters, this organic gem is believed to have been discovered for as long as 3500 years before Christ and has come to be adored by members of royalty and nobility for centuries. Despite being increasingly widespread across Renaissance Europe, pearls were still relatively rare and highly prized and continued to symbolize a wealth and power that was reserved for members of the upper echelons.
This unique gem is associated with a set of given myths and was believed to possess properties that would imbue wearers with purity, integrity, loyalty and calmness. Due to their smooth, opaque and lustrous surface and spherical nature, pearls were long associated with the moon and its magical powers. The many enchanting attributes associated with pearls have made it a universal gem and one like no other, captivating celebrities such as Marilyn Monroe as well as generations of women.
Nishi Pearls is proud to craft contemporary pearl jewelry using an assortment of Genuine Cultured Pearls including freshwater, Tahitian and South Sea.
To celebrate the rich history of this unique gemstone, Nishi Pearls is holding an exclusive promotion on a selection of its Genuine Cultured Pearl jewelry for the entire month of June. Like any gemstone, each individual pearl is original in appearance. Nishi Pearls' promotion highlights the unique nature of their designs, enhanced by the inherent natural beauty of the pearl that is the focal point of each piece.
Nishi Pearls' Pearl Month promotion features best-selling pieces that border on the elegant and classic on the one hand, and the charming and flirty on the other. The more elegant jewelry includes a long freshwater pearl necklace with four detachable strands that can be combined, layered or worn separately. For a luxurious and exotic twist to the classic strand, a hand-strung necklace made entirely of Tahitian pearls showcasing a 14kt yellow gold clasp is also featured.
For the flirtier pieces that accommodate youthful tastes, a freshwater pearl elastic bracelet with a light rose crystal bead has been added, as well as a bold and beautiful bracelet and necklace set lined with uniquely-shaped freshwater Keshi pearls.
Aiming to highlight the diverse and eclectic beauty of pearls, the promotion flaunts pieces showcasing Genuine Cultured Pearls that are out of the ordinary, be it in shape, tint or their combination, paired with other unique pearls and gemstones that result in finished pieces that are refreshingly out-of-the ordinary.
Take advantage of the Pearl Month promotion on the Nishi Pearls website until June 30th.
Nishi Pearls™ is a brand that specializes in designing and creating a wide range of genuine cultured pearl jewelry that creates the perfect marriage between classic and contemporary. With offices located in Asia, Canada and the U.S.A, Nishi Pearls has been making its mark at some of the most prominent international jewelry fairs including the Jewelers International Showcase, the Orlando Duty Free Show of the Americas and the Jewelers' Circular Keystone's (JCK) annual trade show in Las Vegas, to name a few.
Nishi Pearls' dedication to quality is reflected in its partnerships with leading professionals, including their latest branding partnership with Swarovski as well as their inclusion in Air Canada's Inflight program. Their award-winning jewelry is inspired by the consumer of today and the fashion of tomorrow.
Visit them at: http://www.nishipearls.com/online/