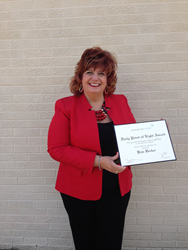 Becker says, "Hello Gorgeous! of Hope Inc. has helped about 600 women across the U.S. but it is our goal to have a least two locations in every state across the country so we can help 500,000 women each year!"
Washington D.C. (PRWEB) June 08, 2015
Kim Becker founder of Hello Gorgeous! of Hope Inc. received the "Daily Point of Light Award" for her work to spark change and improve the world through her organization. Becker said, "I am so grateful to the 'Points of Light' for their wonderful award. By receiving this gracious consideration it helps raise the profile of our non- profit so we can empower more women who are battling cancer."
Hello Gorgeous! of Hope Inc. is a non-profit that provides complimentary, professional makeovers and cosmetic education to women battling cancer. The non-profit was created to: 1) strengthen the confidence of women who have treatments 2) empower them and 3) help them to feel beautiful while they are experiencing treatments.
Becker says, "Hello Gorgeous! of Hope Inc. has helped about 600 women across the U.S. but it is our goal to have a least two locations in every state across the country so we can help 500,000 women each year!" In order to accomplish this task, the non-profit relies on donations from the around the country. With the donations, Hello Gorgeous! of Hope creates beauty kits that are shipped to each affiliate salon. These salons then put together an experience that the women, family, and their friends never forget. It is a day that creates tears of joy, beauty, and hope all rolled into one.
'Points of Light' was founded in 1990 by President George H. W. Bush and is the world's largest organization dedicated to volunteer service. "To be acknowledged by such an exceptional organization is monumental to our little non profit. said Becker, "I am completely honored by this award!"
Both Kim and Michael Becker have received the Mom`s Choice Award for their first book, "Hello Gorgeous!: A Journey of Faith, Love and Hope", published by Corby Books. They are also the 2014 Mutual Bank Better Life Award finalists and the American Cancer Society 2014 Coaches Verses Cancer Night of the Stars Inspirational Award winners. They have been married for 21 years and live in Indiana with their 12-year old son, Seth and a pug named Sam.
If you would like more information about Hello Gorgeous! of HOPE, Inc, information about how to donate, or to buy their new book "I Promise To Put My Lipstick on When I Get There" contact 855-434-3556, or email hellogorgeousin(at)sbcglobal(dot)net. You can also log onto the website at http://www.hellogorgeous.org.