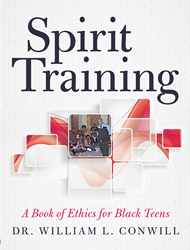 The book aims to revitalize our upcoming black communities and make them healthy and whole through recognizing and living out the relevance of our cultural heritage
CHICAGO, Ill. (PRWEB) June 08, 2015
In light of recent events in Ferguson, Baltimore, and elsewhere, many black teens find themselves at a crossroads: Who are they today, and who do they want to be in the future?
Dr. William L. Conwill is hoping they will grow to be ethical, upstanding adults, but he understands the difficulties of navigating a world filled with destructive influences. His new book, "Spirit Training," is a guide designed to help black teens develop their character and flourish as they grow into more prominent roles in their communities.
"As a psychologist I worked extensively with teens in various settings," Conwill said. "I realized their need for an introduction to ethical principles to guide their decision making."
Conwill drew heavily from his studies of ancient traditions and settled on a set of West African ideals as the foundation for the lessons of "Spirit Training."
"The book aims to revitalize our upcoming black communities and make them healthy and whole through recognizing and living out the relevance of our cultural heritage," Conwill said.
For more information, visit http://www.spirit-training.com.
Spirit Training
By Dr. William L. Conwill
ISBN: 978-1-4808-1325-0
Available in softcover, e-book
Available on Amazon, Barnes & Noble and Archway Publishing
About the Author
Dr. William L. Conwill is the author of numerous international and national publications. His professional roles have included psychologist, healer, martial arts instructor, and educator. He consults for educational, governmental, community, and professional organizations. He is married, has three adult sons, and currently lives in Champaign and Chicago, Illinois.
# # #
**FOR IMMEDIATE RELEASE**
For review copies or interview requests, contact:
Drew Tharp
317.602.7137
dtharp(at)bohlsengroup(dot)com