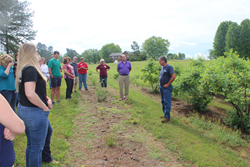 Statesville, North Carolina (PRWEB) June 08, 2015
Agricultural diversity in Iredell County was on display as 33 people participated in the 4th annual Farm Tour sponsored by Carolina Farm Credit and organized by the county's Cooperative Extension office and Statesville's Chamber of Commerce. The tour made stops at 5 local agribusinesses. The tour was led by Nancy Keith, Director of the Iredell County Center of North Carolina Cooperative Extension.
The five Agribusinesses highlighted on the tour were James River Equipment of Statesville (tractor and equipment sales), Prevette Family Farm (nursery, peaches, blueberries, blackberries), Hunting Creek Farms (row crops, Clydesdale horses, event center), Galliher Dairy (350 head dairy farm), and A&J Honey Farm (honey, bees, pollination). The tour also included Lunch at Hunting Creek Preserve. The diverse group of farms highlighted what makes North Carolina such a unique agricultural state.
"Agriculture is Iredell's number one industry, providing an annual economic impact of $662 million dollars while also accounting for 15% of the county's workforce. The industry supports many agri-businesses and provides residents with a vast array of "home grown" products from which to choose." said Brent Warren, Carolina Farm Credit Loan Officer.
Carolina Farm Credit is a stockholder-owned cooperative providing financing to full and part-time farmers and agricultural-related businesses and also provides financing for the construction and purchase of homes in 54 counties through 36 branch offices. Other financial services available are credit life insurance, crop insurance, appraisal services, leasing programs and financial planning.
Carolina Farm Credit serves over 9,200 members with loans outstanding totaling more than $1.4 billion. The association's territory covers the western half of North Carolina, with branch offices located in Albemarle, Asheboro, Asheville, Boone, Browns Summit, Burnsville, Carthage, Concord, Conover, Ellerbe, Graham, Hendersonville, Hillsborough, Jefferson, Lenoir, Lexington, Lincolnton, Marshall, Mocksville, Monroe, Murphy, Pilot Mountain, Roxboro, Rural Hall, Salisbury, Shelby, Siler City, Sparta, Spindale, Statesville, Taylorsville, Wadesboro, Waynesville, Wilkesboro, Yadkinville, and Yanceyville.
Carolina Farm Credit was recognized as a 2015 Best Employer in North Carolina. The list of the Best Employers in North Carolina was created by Business North Carolina, the Society for Human Resource Management (SHRM) – NC State Council and Best Companies Group.
Directors for Carolina Farm Credit are Mark A. Bray, Chairman, Lawsonville; L. Kim Starnes, Vice-Chairman, Salisbury; John M. Barnard, Statesville; E. Bernard Beck, Seagrove; W. Rex Bell, Statesville; David M. Coltrane, Pleasant Garden; Susie J. Gambill, Sparta; Joseph A. Lail, Shelby; Clark M. Newlin, Haw River; Thomas E. Porter, Jr., Concord; Tony L. Ragan, Sanford; D. Kaleb Rathbone, Waynesville; Lewis E. Smith, Lincolnton; Vickie N. Smitherman, East Bend; Dr. Alton Thompson, Summerfield.