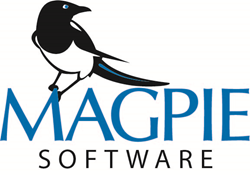 Denver, CO (PRWEB) June 08, 2015
Magpie Software Services Corp, a leading provider of high quality software and firmware development services to companies across the US, today announced that its Founding President and CEO, Margaret Burd, will transition the CEO responsibilities and title to Judson Smith, the company's current COO. After a successful 14 year run, Ms. Burd will assume the role of Executive Chairwoman and focus on customers, deals, partnerships, broader business relationships, supporting the new CEO, and providing leadership for the Magpie board.
Ms. Burd commented on the transition, "Magpie has accomplished great things in the midst of a dynamic time in the software industry and delivered great value and quality to our customers. As COO and partner, Jud, has played a significant role in driving these results. Thanks to his vision, operations knowledge and business acumen, we have a strong foundation that will allow Magpie to continue to provide excellent software and firmware development services for small to large companies across the US and Canada.
"As I transition the CEO role to Jud, my focus is business growth while maintaining customer loyalty and our terrific Magpie culture. This will be the foundation for Magpie's continued evolution and position us well for the future."
About Magpie Software: Colorado based, Magpie Software Services Corp is an Agile software development firm that develops high quality custom software for clients in a wide range of industries including membership based organizations, communications, telehealth, non-profits and energy. They are widely recognized for their deep and broad technical expertise and their problem solving skills.