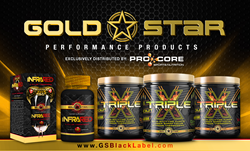 PARSIPPANY, NJ (PRWEB) June 09, 2015
Goldstar Performance Products, a leading supplier of physique-enhancing dietary supplements, has introduced the Triple X pre-workout stimulator and the Infrared Thermogenic fat burner, the only products on the market that include 2-aminoisoheptane. These two supplements are available through a limited number of retailers and distributors in the United States.
2-aminoisoheptane, produced from a natural plant extract called Aconitum Kusnezoffii, is a powerful stimulant and appetite-suppressant. Unlike other ingredients, there is no post-workout crash. The intense energy from 2-aminoisoheptane gradually tapers off after a workout.
"Ever since Geranium oil and Amp citrate went off the market, people have been clamoring for supplements with an ingredient that produces the same results," said Steven Hankin, President of Goldstar Performance Products. "2-aminoisoheptane is that ingredient. We've been collaborating with clinical research labs for a year to develop safe, effective compounds, and we're confident that even the most hardcore bodybuilders and athletes will be thrilled with Triple X and Infrared Thermogenic."
The new Triple X pre-workout formula from Goldstar Performance Products delivers incredible pump, power, focus, energy and endurance to take users beyond their limits, minus the hard crash experienced with other supplements. The new Infrared Thermogenic fat burner helps users control their appetite and resist cravings while melting fat and preserving muscle to produce that extra cut. 2-aminoisoheptane (Aconitum Kusnezoffii) is only found in Triple X and Infrared.
Frustrated by companies that use hype and slick marketing to sell inferior products, Goldstar Performance Products takes pride in formulating and testing dietary supplements that meet the high expectations of advanced users. Triple X and Infrared Thermogenic, powered by 2-aminoisoheptane, are the latest examples of Goldstar's "product-first" approach.
Retailers and distributors interested in carrying Triple X and Infrared Thermogenic should contact Procore Sports Nutrition by calling 877-778-2787 or emailing Rossman@procoresportsnutrition.com.
About Goldstar Performance Products
Founded in 2008, Goldstar Performance Products is a leading supplier of dietary supplements to health, fitness and nutritional supplement retailers and distributors around the world. The Goldstar product line includes a fat burner, pre-workout stimulator, testosterone booster, thyroid stimulator and other physique-enhancing supplements. Goldstar Performance Products is a product-driven company that uses scientific data and strict testing to formulate new compounds that meet the demands of bodybuilders, world-class athletes and fitness enthusiasts. For more information about Goldstar Performance Products and its full line of dietary supplements, visit http://www.gsblacklabel.com.