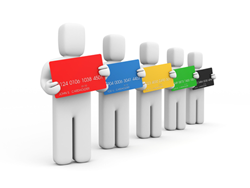 Rockville, MD (PRWEB) July 07, 2015
The Consumer Financial Protection Bureau is set to regulate the prepaid card industry in 2015, after a period of public comment that ended recently.(1) The changes will provide better protection for prepaid card users, in particular "unbanked" consumers whose transactions are limited to prepaid cards and cash—an estimated $100 billion in transactions in 2014 according to the CFPB.(2) Yet, still to be addressed is the fact that prepaid cards are a dead-end for building one's financial future through building good credit.
Prepaid cards are preloaded with funds by an employer or other payer, or purchased directly by the consumer, who can then fund the card. But what advantage does a prepaid card offer the consumer? A prepaid card is a simple convenience – they are convenient to carry and useful for making online purchases. But the utility ends there.
Using a prepaid card is like paying with cash, offering the consumer no ability to establish a credit history. In fact, many prepaid cards lack security features. While the CFPB hopes to regulate better transparency about what prepaid card issuers do and don't cover, currently these cards fall into a "buyer beware" category. It is up to consumers to understand what, if any, security features their prepaid cards provide against loss, theft and unauthorized use of funds.
A credit card, on the other hand, offers the consumer flexibility, fraud and loss protections, and the ability to build on their credit history. The amount a consumer is allowed to borrow is related to his/her creditworthiness; the more a consumer borrows and pays back responsibly, the more that person's creditworthiness increases.
Building good credit is essential to qualify for loans to purchase a car or a house, as well as making large purchases more affordable—the better the credit, the lower the interest rates. A good credit history can also be the determining factor in getting an apartment or a job, since landlords and employers often check an applicant's credit. Additionally, credit cards are available to fund unexpected costs, borrowing against future paydays when there may not be enough cash at hand to cover a financial emergency.
A secured credit card offers all the flexibility, convenience and protections of a regular credit card, as well as a great way to begin building a credit history. Many secured credit card issuers don't require a credit check, because the cardholder makes a cash deposit equal to the card's credit limit. The amount remains a security deposit and isn't drawn down. Be sure to choose a secured credit card that reports monthly to all three consumer credit bureaus in order to build credit history. To build good credit, consumers should use the secured credit card regularly, staying within their credit limit, making on-time monthly payments and regularly paying down or paying off the balance owed.
"It's an important step for the CFPB to regulate the prepaid card industry so consumers get a more uniform product and a better understanding of services," says Nick Bryan, President, OpenSky, a financial products division of Capital Bank, N.A. "But better public education is needed so consumers appreciate the implications of a having a credit history, and how a lack of credit can impact their financial future."
About OpenSky
OpenSky is a business line of Capital Bank, N.A. that focuses on delivering credit building tools and resources to help consumers establish or re-build their credit. OpenSky credit card products are designed to be easy to get, easy to use and offer variable credit lines, allowing consumers with any financial needs to build a solid credit history. The premiere product, the OpenSky® Secured Visa® Credit Card, has been recognized by Credit.Net as one of the best credit cards for 2014 that build credit fast. With more than 50,000 cardholders and counting, OpenSky is committed to helping consumers meet their financial goals through the power of strong credit and credit knowledge.
For more information visit http://www.opensky.com.
About Capital Bank
Capital Bank, N.A., is a leading private bank in the Washington, D.C. metropolitan area that offers a range of services encompassing cash management, commercial lending, consumer credit and residential mortgage/Veterans Administration mortgage loans. Capital Bank's core commercial banking and lending business includes two rankings by the U.S. Small Business Administration (SBA), ranked number two among community lenders and in the top ten among all lenders in the Washington Metropolitan District for loan volume for Fiscal Year 2014. With double-digit asset growth over the past three years, Capital Bank has more than $600 million in assets and is well positioned to fulfill its culture of collaborative partnerships and solutions for area businesses and consumers nationwide. For more information, visit http://www.capitalbankmd.com. Member FDIC. An Equal Housing Lender.
CAPITAL BANK, PARTNERS IN YOUR VISION
Sources
1. CFPB Proposes Strong Federal Protections for Prepaid Products http://www.consumerfinance.gov/newsroom/cfpb-proposes-strong-federal-protections-for-prepaid-products/
2. Ibid., paragraph 3