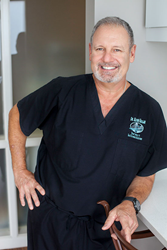 Mount Pleasant, SC (PRWEB) June 05, 2015
Dr. Kevin Hogan, a leading general dentist in Mount Pleasant, SC now accepts patients who are seeking dental implants to replace their missing teeth without a referral from another doctor. Implants provide patients with permanent tooth restoration so they can speak and eat without worrying about denture failure and its potentially embarrassing side effects.
When patients lose their natural teeth, they lose more than the ability to chew their food. The jaw is dependent on teeth to provide it with adequate stimulation. This stimulation acts as a trigger to keep the jaw healthy and strong. When a patient's teeth are lost, they may notice that the jaw begins to atrophy and lose its proper shape. In severe cases, the jaw may become deformed and permanently alter a patient's appearance. Dental implants can keep this from occurring. When implants are used, patients are left with new teeth that look and act just like natural teeth.
Implants are made up of three main parts: the titanium root, the crown and the small abutment piece that joins the two. The titanium root is essential to the success of the implant. Due to a process known as osseointegration, the bone of the jaw fuses to the implant. Once an implant is placed, a healing period must occur to ensure that osseointegration is complete and the implant is strong and healthy. Depending on the number of implants that are being placed and the number of natural teeth the patient has, Dr. Hogan may recommend the use of a temporary replacement during the healing period. Once healing is complete, a permanent replacement is secured onto the implant root.
Patients who can benefit from dental implants are encouraged to contact Dr. Hogan, a respected dentist in Mount Pleasant, SC, as soon as possible.
About the Doctor
Dr. Kevin Hogan is general dentist providing individualized care for patients in Mount Pleasant, SC. Dr. Hogan is a graduate of the Indiana University School of Dentistry and has completed hundreds of hours of continuing education courses to stay up to date with the latest dental technologies. In addition, he has also completed coursework with the Dental Organization for Conscious Sedation and has lectured at both the University of North Carolina and Emory University. Dr. Hogan is a member of the American Dental Association, International College of Cranio-Mandibular Orthopedics, Academy of Laser Dentistry, International Association of Physiologic Aesthetics, Institute for Advanced Laser Dentistry, among many others. He and his team are dedicated to providing exceptional oral care to patients through personalized treatment plans. To learn more about the services offered by Dr. Hogan, please visit his website at http://www.smilesbyhogan.com or call (843) 639-5044.