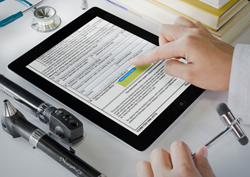 This will certainly have a significant impact on companies looking for a more productive, cost-effective and secure way to conduct transactions and submissions
CHATTANOOGA,Tenn. (PRWEB) June 08, 2015
SIGNiX, the leading provider of cloud-based Independent E-Signatures™, announced today it has launched enhancements to its e-signature solutions that adhere to the SAFE-BioPharma® global standard. By using this enhanced e-signature from SIGNiX, life sciences, pharmaceutical and healthcare companies are assured that they can authorize agreements that meet legal and regulatory requirements around the globe – opening the way for greater international collaboration within and between these vitally important industries.
With this announcement, SIGNiX – a SAFE-BioPharma Association partner since 2014, has extended its platform to offer high assurance identity and signing credentials across the board, particularly as an add-on feature to SIGNiX's PharmaDoX solution for users in the life sciences industry and to its MyDoX solution for healthcare and other enterprise users. These products allow global pharmaceutical companies, clinical research organizations and leading healthcare companies to deploy a highly reliable SIGNiX solution for their critical signature and workflow needs.
"The pharmaceutical and life sciences industry is increasingly leveraging big data to enhance patient therapies, but sending and scanning two to six million pages of paper for a single FDA submission is neither efficient nor ideal for important data harvesting," said Mollie Shields-Uehling, president and CEO, SAFE-BioPharma Association, which facilitates the global SAFE-BioPharma digital identity and signature standard. "Secure e-signatures are an essential part of the industry's advancement."
SIGNiX's new SAFE-BioPharma-compliant technology uses the most trusted levels of identity authentication and provides a unique digital certificate, or identity, certified by SAFE-BioPharma. Signatures made with these certificates will be recognized and trusted by U.S. government agency applications and within Europe and the European Medicines Agency as a qualified electronic signature.
"SIGNiX has developed an outstanding enhancement to their solutions that are both intuitive and exceedingly secure," Shields-Uehling added. "This will certainly have a significant impact on companies looking for a more productive, cost-effective and secure way to conduct transactions and submissions."
In addition to a new SAFE-BioPharma compliance feature, SIGNiX's e-signature solutions already include:
-Robust workflow options to get documents signed by parties anywhere at anytime.
-Easy to use browser-based interface to sign documents, on mobile devices, tablets, and PCs.
-Cloud-based service, meaning no installation and quick start-up times.
-The use of secure, independent e-signature technology, in which rich evidence behind a signature's validity is permanently embedded directly into the signed document.
-Signature validity for the life of the document.
-Tamper-evident technology and comprehensive audit trails that provide complete transparency of the signing process.
-Technology based on international, published standards that are legally enforceable around the world.
-Compliance with HIPAA and 21 CFR Part 11.
"Our SAFE-BioPharma-compliant e-signatures give healthcare, life sciences and pharmaceutical companies a secure, convenient tool for authorizing transactions worldwide and accelerates their ability to establish fully electronic environments," said Jay Jumper, president and CEO of SIGNiX. "We applaud the SAFE-BioPharma Association for developing this global identity and signature standard and are honored to be a partner of the association."
About SIGNiX:
SIGNiX, the most trusted name in independent e-signatures, makes signing documents online safe and secure with comprehensive legal evidence permanently embedded in each document to eliminate any dependence upon SIGNiX. The company's cloud-based service uses patented technology to give businesses and organizations the most secure and legally defensible e-signatures available at a fraction of the cost of wet ink signatures. SIGNiX's products help the world's leading companies become more efficient, decrease risk and boost profits. For more information, visit http://www.signix.com.
About SAFE-BioPharma:
The global SAFE-BioPharma® digital identity and digital signature standard is used throughout the biopharmaceutical and healthcare communities to meet specific security and confidentiality needs. It was created with participation from the U.S. Food and Drug Administration and the European Medicines Agency. The standard and its ongoing development is managed by SAFE-BioPharma Association, a non-profit supported by its members. For more information visit http://www.safe-biopharma.org.
SAFE-BioPharma® is a trademark of SAFE-BioPharma Association. Any use of this trademark requires approval from SAFE-BioPharma Association.