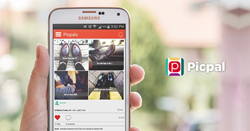 Irving, TX (PRWEB) June 09, 2015
MyndBee Inc. announces the availability of its app, Picpal, for download on Android devices.
Picpal combines social media, real-time collages and selfies into one app. Want to share what you're doing right now with a group of friends, no matter where they are? Simply open Picpal, choose the friends you want in that collage and take a selfie. The app simultaneously sends a request to your friends to take a selfie too. The app then combines all photos into a collage, which users can share; they can then "heart" and comment on other Picpals posted by their friends as well.
Picpal is a new way for friends to stay in touch and communicate in real-time. Content in Picpal is co-created by a group of participants; its focus is on social content creation vs. the individual content creation seen in other social media apps.
Picpal is all about living in the moment, so the immediacy of the photo taking experience is present throughout the collage creation. The app provides no filters and no means to access stored pictures and friends are only allotted a limited time frame to respond to a Picpal photo request before the collage expires.
The iOS version of the app has been very well received in its limited release on select college campuses. It also received positive reviews on college publications such as Uloop News.
For more information on the app visit getpicpal.com. To get the app for your Android device, visit here. Or for the iOS version visit here.
About MyndBee Inc.
MyndBee Inc. is a social media tech startup with offices in Irving, TX, San Francisco, CA and Bangalore, India.
Victoria Robertson, Marketing
MyndBee Inc.
847-469-3370
http://www.getpicpal.com