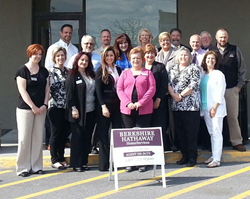 We at Experience are excited to be part of such a fabulous, growing company with a well-known and respected name.
WINCHESTER, Va. (PRWEB) June 08, 2015
Berkshire Hathaway HomeServices (BHHS) PenFed Realty today announced that its Winchester office has acquired the Experience Realty Group of Winchester; adding 18 new agents to the Winchester office.
"We are pleased to have Nancy and her agents join the Winchester office and BHHS PenFed Realty family," said Patsy Williamson, managing broker with the BHHS PenFed Realty Winchester office. "The Group brings experience, enthusiasm, and excitement to our real estate team. Ultimately the move will enable us to better serve our market area—helping sellers and buyers with all their real estate needs."
Nancy Shafer, broker and owner of Experience Realty Group, recently joined BHHS PenFed Realty's Winchester group, along with all 17 Experience agents.
"I was approached with the idea about merging with the Winchester BHHS PenFed Realty office. After further consideration, I became very excited about the systems and tools given to the agents to automate their business. Their approach helps agents get to a higher level of production without costing them or taking them away from business prospects," said Shafer.
Shafer moved to Virginia in 1978 with her husband and two children where she worked in banking until 1983, received her real estate license later that year, earned her broker's license in 1987, and added a CRB designation to her credentials.
Shafer has received much recognition throughout her career, among these: Rookie of the Year in 1983, and Top Lister and Top Sales with Long and Foster. Shafer has repeatedly been recognized during her professional career as a being a Top Producer, and received the Northern Virginia Association of REALTORS® (NVAR) Life Top Producer Award.
Shafer's professional successes include: Serving on NVAR's Grievance and Ethics Committee, Chairing the Risk Management Committee (VAR), membership on the CRB Committee at Prince William Association of Realtors, serving as Chair of Finance Committee with Prince Williams Association of Realtors, and serving as Director and Vice President of the Prince William Association of Realtors.
Additionally, Shafer started her management career as Assistant Manager at the Fair Oaks office for Mount Vernon Realty, managed Weichert Realtors in Great Falls for 13 years, and managed the Reston Springfield and Manassas offices.
Shafer opened Crossroads Realtors in city of Manassas in 1999. In 2008, Shafer purchased the Keller Williams office in Winchester, and in 2011 opened the Experience Realty Group in Winchester.
Shafer started Experience Realty Group with three agents, and successfully grew the company to more than 20 agents. Experience Realty Group ended 2014 with a production volume of $17,256,626 million.
Shafer concluded, "We at Experience are excited to be part of such a fabulous, growing company with a well-known and respected name."
The Experience Realty Group and Associates team are now working from the Berkshire Hathaway HomeServices PenFed Realty Winchester, Va. office.
About Berkshire Hathaway HomeServices PenFed Realty
PenFed Realty, wholly owned by PenFed (Pentagon Federal Credit Union), is a full-service real estate company with an annual sales volume over $2.8 billion. Over 1,700 top-notch sales professionals work out of PenFed Realty's 50+ offices to provide complete real estate services nationwide. To find out more about Berkshire Hathaway HomeServices PenFed Realty, please visit http://www.PenFedRealty.com.
PenFed Realty is an independently owned and operated franchisee of BHH Affiliates, LLC. Berkshire Hathaway HomeServices and the Berkshire Hathaway HomeServices symbol are registered service marks of HomeServices of America, Inc. Berkshire Hathaway HomeServices, based in Irvine, CA, is a real estate brokerage network built for a new era in residential real estate. The network, among the few organizations entrusted to use the world-renowned Berkshire Hathaway name, brings to the real estate market a definitive mark of trust, integrity, stability and longevity. Berkshire Hathaway HomeServices in early 2014 was named "Real Estate Agency Brand of the Year" by consumers in the 26th annual Harris Poll EquiTrend® study of the largest real estate networks. To learn more, visit http://www.berkshirehathawayhs.com.
Irvine, CA-based HSF Affiliates LLC operates Berkshire Hathaway HomeServices, Prudential Real Estate and Real Living Real Estate franchise networks. The company is a joint venture of which HomeServices of America, Inc., the Nation's second-largest, full-service residential brokerage firm, is a majority owner. HomeServices of America is an affiliate of world-renowned Berkshire Hathaway Inc.