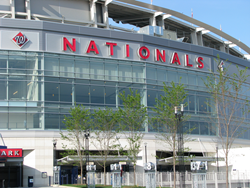 'There is a role for us to play to help other CBE members get what they need,' said Guy Brami.
Washington, DC (PRWEB) June 08, 2015
William P. Gelberg, Inc., has launched Gelberg AEC, a Washington, DC architecture, engineering, and consulting firm providing professional services as a Certified Business Enterprise (CBE). Gelberg Signs, another Gelberg company, has served the DC area since 1941 and currently works with customers throughout the area, from the Washington Nationals Ball Park and METRO to retail and restaurant signage, signs on the New Jersey Turnpike, and DC parking facilities. They work hand-in-hand with the construction, developer, and manufacturing industries, and now, with Gelberg AEC, also bring principal partners from the architecture and engineering world.
Gelberg AEC began as an idea, the result of a conversation about growing small businesses in the District and being able to better serve customers frustrated by the construction and development process, especially with the permitting and certification process. Gelberg Signs started to discuss a way to improve the process for its customers.
The District requires a minimum of 35% participation of CBEs on District-sponsored projects, and projects directly developed for the District have a minimum 50% CBE requirement. There are 1,075 CBEs in DC, but many are small businesses who provide only a fraction of the services required by a contract. Projects are sometimes stalled for lack of CBEs with the professional AEC skills needed, especially when demand is high.
During these conversations, other questions began to arise: could CBEs in the development community come together and support each other for growth? What could they do to help local dollars stay local? How could they help smaller CBE companies get involved with larger projects? What void in the CBE community could they help fill?
Gore Bolton, renowned engineer and entrepreneur, Christine Hartmann, environmental engineer and project manager, and David Goodenow, award-winning architect, teamed up with brothers Luc, Guy, and Neil Brami – owners of Gelberg Signs – to come up with the solution: Gelberg AEC. With a team that had multi-billion dollar projects under their belts and strong relationships with the development and construction community in Washington, DC, Gelberg AEC became a reality.
As a locally-owned CBE, Gelberg AEC's mission is to bring reliable, local professional services with clear business sense and cooperation to the development community in Washington, DC.
"We felt that DC was missing a strong, flexible professional services company in the CBE community. The CBE business gets fractured since everyone is trying to meet their numbers. There is a role for us to play to help other CBE members get what they need," says founding principal, Guy Brami. "We want to be the flag leader for CBE and AEC. As a small business owner, we want to ensure that DC's small business community benefits from these projects. Instead of displacing a five-person shop, we want to team up with them and combine our expertise and abilities."
Gelberg AEC's services can do all or a part of any project, from conceptualization to a turn-key result, with its team providing leadership, design, inspection, certification, site design, management, feasibility, conceptual planning, permitting, and construction administration – along with other services.
"It is our goal to bring a true business and customer service acumen to an industry where many tasks in a project don't get a lot of business attention," says Gore Bolton, PE, principal of Gelberg AEC. "We believe it is integral to have trust and authenticity with every project. The Gelberg AEC team will provide value and teaming opportunities to all CBEs headquartered in DC."
Learn more about Gelberg AEC and their founding team at http://www.GelbergAEC.com.
About the CBE Program
The CBE Program grants preference to D.C.-based firms pursuing D.C. Government-issued procurement opportunities, and expands the availability of business opportunities with D.C.-sponsored development projects, which require from 35% to 51% CBE participation. In order to be eligible for CBE certification, a business must meet a local standard to demonstrate that it is a bona fide D.C.-based business with assets, revenue and facilities in D.C. The CBE program has evolved over three decades as one of the most progressive local inclusion programs in the United States, serving as a best practice model for other local and state jurisdictions. Learn more about the District's CBE program at http://www.dslbd.dc.gov/getcertified.