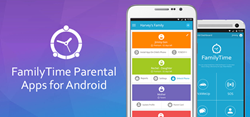 FamilyTime is all about empowering parents and making children responsible digital citizens.
Chicago (PRWEB) June 09, 2015
FamilyTime, makers of the most advanced parental controls, on its official blog on Friday, has announced its parental monitoring applications for Android smartphones and tablets. These apps aim to help parents with busy schedules to connect with their children digitally.
FamilyTime launches not one but two applications for Android: FamilyTime app for children and FamilyTime - Dashboard for parents.
FamilyTime - Dashboard for Parents
FamilyTime - Dashboard is the parent's dashboard from where they can view reports and set parental controls for their children. They can download the app at: https://play.google.com/store/apps/details?id=io.familytime.dashboard&utm_source=PRWeb&utm_medium=PressRelease&utm_campaign=AndroidRelease
Parents can also log into their online FamilyTime - Dashboard from any web-enabled device and can check reports and parental controls online.
FamilyTime App for Children
FamilyTime app for children, on the other hand, is meant to be installed on child's phones or tabs. It logs data and makes it accessible to the parents via FamilyTime - Dashboard app. This app also lets children send SOS alerts and PickMeUp alerts to their parents in the time of need. FamilyTime app for children can be downloaded from the Parents' online dashboard.
Jason Schmidt, Product Manager at FamilyTime, while discussing what makes FamilyTime the best parental control software for Android, said, "FamilyTime is all about empowering parents and making children responsible digital citizens. FamilyTime bridges the gap between parents and kids so that parents can know their children are all safe while children get to enjoy the latest tech in a safe environment!"
Features
FamilyTime is a feature-rich software that lets them monitor and manage their child's device usage and keep tabs on their whereabouts so parents can:

View call logs and contacts saved on the child's phone.
Track their location history.
Check web history and bookmarks.
View all installed apps.
Get panic alerts from children with location details in an emergency.
Receive alerts from them when it's time to pick them up with location stats.
Remotely lock phone in case of theft or loss.
While discussing the app's popularity among the parents, Jose Gomez, Head of Marketing, said, "FamilyTime customers have been waiting for Android parental controls anxiously and now they have the best parental control software that fits their budget!"
Pricing and Compatibility
FamilyTime has two versions- basic and FamilyTime Premium but parents can register and get a 7-day trial for no charges. Parents can use it to monitor children using Android or iOS devices.
FamilyTime is the leading parental control software that empowers parents to keep a safety check on their children digitally. For more details, visit their website and discover more on their official blog. For updates and great parental tips, follow their Twitter and GooglePlus pages and like them on Facebook.