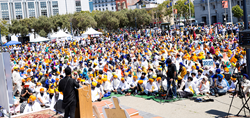 San Francisco, California (PRWEB) June 08, 2015
The Bay Area Sikh community commemorated the 31st anniversary of attack on Golden Temple, most sacred Sikh shrine in Amritsar, by the Indian government in 1984. On Sunday, thousands of Sikhs paraded on Market Street in San Francisco. The rally was organized by Sikh Temple Fremont.
The parade highlighted the religious and economic demands of minority community. "The army went into Durbar Sahib (Golden Temple complex) not to eliminate a political figure or a political movement but to suppress a culture of a people, to attack their heart, to strike a blow at their spirit and self-confidence," Joyce Pettigrew said.
Bhai Ram Singh, an event coordinator, said that In June, 1984, more than 150,000 Indian army troops, equipped with helicopter gunships and tanks, were sent to the northern Indian state of Punjab, and the Indian army unleashed an attack on its own citizens unprecedented in post-independence India.
The Sikh Parade Started from 2nd street and Market at 12 p.m. ending at Civic Ctr Plaza at about 1:30 p.m. The parade followed by speeches and video presentations at Civic Center Plaza for three hours. The local community invited speakers from around the world mainly from the UK, Canada and India. Most of speakers demand an independent Sikh state, namely Khalistan.
Bhai Jasjeet Singh, Director Sikh Alliance said, "Sikhs had one of the most powerful kingdom in the world in19th century under Maharajah Ranjit Singh. The British occupied it in 1849 after his death. Sikhs decided to part with India in 1947 when the British offered India independence. But after the attack of 1984, Sikhs again start fighting for their homeland."