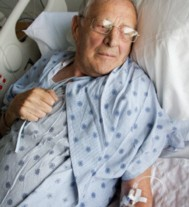 ...less toxic treatment options will be required to improve their prospects.
Raleigh, NC (PRWEB) June 08, 2015
Scientists from three European countries with high rates of malignant pleural mesothelioma found that older patients are less likely to be treated with chemotherapy and probably die earlier as a result.Click here to read the full story which has just been posted on the Surviving Mesothelioma website.
The study included 900 mesothelioma patients from Belgium, 2309 from the Netherlands, and 5808 from England. All three countries showed lower rates of chemotherapy use among older patients, even though mesothelioma survival was about 5.6 months longer with chemotherapy than without it.
"Elderly patients currently account for more than half of all cases and less toxic treatment options will be required to improve their prospects," writes Ronald A. Damhuis of the Netherlands Comprehensive Cancer Organization in Rotterdam, lead author on the report.
According to the report in Lung Cancer, almost 60 percent of mesothelioma patients in the study were 70 years of age or older but, in two out of the three countries studied, fewer than half of these patients had chemotherapy.
"Given that chemotherapy for mesothelioma is only marginally effective, even in younger patients, this article highlights the ongoing need for alternative mesothelioma treatment options," says Alex Strauss, Managing Editor of Surviving Mesothelioma.
To read details of the study and learn more about chemotherapy trends in Europe and the US, see Elderly Mesothelioma Patients Need "Less Toxic" Treatment Options, now available on the Surviving Mesothelioma website.
Damhuis, RA, "Treatment patterns and survival analysis in 9,014 patients with malignant pleural mesothelioma from Belgium, the Netherlands and England", May 22, 2015, Lung Cancer, Epub ahead of print, http://www.sciencedirect.com/science/article/pii/S0169500215002500
For nearly ten years, Surviving Mesothelioma has brought readers the most important and ground-breaking news on the causes, diagnosis and treatment of mesothelioma. All Surviving Mesothelioma news is gathered and reported directly from the peer-reviewed medical literature. Written for patients and their loved ones, Surviving Mesothelioma news helps families make more informed decisions.