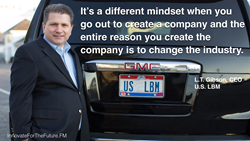 It's actually easier to go out and get capital to crete a business than it is to create a vision and culture for that business.
Chicago, IL (PRWEB) June 08, 2015
L.T. Gibson has led US LBM since it's founding in the summer of 2009 creating a portfolio of twenty divisions with sales in excess of $1.3 billion.
In this five episode podcast series of Innovate For The Future, L.T. Gibson, CEO of US LBM, discusses the company's vision, culture, value proposition, business model, and transformative leadership with the show's host Dirk Beveridge.
"I'm thrilled to bring these amazing and very insightful discussions I had with L.T. -- 30 minutes at a time -- to our UnleashWD community and the entire wholesale distribution industry," Beveridge said. "I am naturally attracted to bold thinkers committed to executing bold visions. L.T. is one of these leaders and through these five episodes of Innovate For The Future, the listeners will learn first hand the mindset, strategies, and priorities of someone who has set out to change an industry."
This entire series and all episodes of Innovate For The Future will be available in iTunes and on Beveridge's new website. Episode one in the series is available today. From the website, listeners will be able to download the episode transcript and access links of all the resources discussed in the episode.
The Innovate For The Future L.T. Gibson series will appear as listed here:
Available today: Episode One – Setting Out To Change An Industry – The Power Of Vision
Monday June 15: Episode Two – Creating A Culture That Unleashes Continuous Improvement, Experimentation, And Innovation
Monday June 22: Episode Three – Getting Close To The Customer To Provide Unmatched Value
Monday June 29: Flipping The Business Model 180 Degrees
Monday July 6: Episode Five – Leading In An Age Where The Traditional Management Structures Must Be Rethought
About Dirk Beveridge
Beveridge is leading a movement of change and innovation throughout wholesale distribution. Beveridge identified that innovation was bypassing distributors and in 2012 founded UnleashWD, the only innovation summit for distributors. His book INNOVATE! How Successful Distributors Lead Change In Disruptive Times is setting a bold new agenda of innovation for distributors around the world and continues to be a best seller.
As one of the country's most outstanding business speakers, Beveridge is delivering a new voice, a new energy, and a new outlook to audiences on six continents. For more information visit http://www.dirkbeveridge.com.
Beveridge is available for press interviews, corporate speaking, and consulting. To contact him call 847-381-7797 or email info(at)unleashwd(dot)com.
About L.T. Gibson
L.T. Gibson believes that a company should care for its employees first, so they can better care for the customer. For over 20 years, L.T. has overseen multiple start-ups, integrations and turnarounds for small and large companies in the building materials industry. This experience serves him well as he integrates new and different companies into an organization. L.T. believes that by creating a culture of accountability, integrity, and continuous improvement, US LBM will be positioned to service the rapidly changing building materials market. You can learn more about L. T. by visiting http://www.uslbm.com/our-team.html.
About US LBM
The concept of US LBM was founded in the summer 2009. The management team had a vision of a progressive organization that promoted a very unique culture. The foundation of US LBM was to focus on the value of its customers and associates recognizing that the importance of each business unit was maintained in the local market. In October 2009, US LBM came into existence with the financial backing of the existing management team and outside investors. US LBM's mission remains to partner with the leading companies in the industry while instilling best practices across the entire organization. You can learn more by visiting http://www.uslbm.com/about-us.html.
About Innovate For The Future
Innovate For The Future is a new weekly podcast show produced by Dirk Beveridge. The podcast series is designed to provide intimate access to some of the world's most effective leaders, innovators, and disrupters from within distribution and beyond.
The innovative structure of Innovate For The Future features a "series within a series" format. Rather than one-off, stand alone interviews, each guest will be featured in a series of five 30 minute podcast episodes. The Innovative Distributor™ model provides a framework for the five episode in each series.
Innovate For The Future is available today in iTunes and at http://dirkbeveridge.com/series/innovateforthefuture-fm/