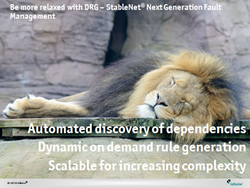 Dr. Stefan Köhler, CEO for Infosim® comments: "Rules creation and deletion has been an Achilles' heel of legacy network management systems. With DRG, we are again delivering another new technology to our customers to achieve our goal of the dark NOC."
Wurzburg/Austin/Singapore (PRWEB) June 08, 2015
Infosim®, a leading manufacturer of automated Service Fulfillment and Service Assurance solutions for Telcos, ISPs, MSPs and Corporations, today announced a proprietary new technology called Dynamic Rule Generation (DRG) with StableNet® 7.
The problem: The legacy Fault Management approach includes a built-in dilemma: Scalability vs. Aggregation. On the one hand, it is unfeasible to pre-create all possible rules while on the other hand, not having enough rules will leave NOC personnel with insufficient data to troubleshoot complex scenarios.
The solution: DRG expands and contracts rules that automatically troubleshoot networks by anticipating all possible scenarios from master rule sets. DRG is like cruise control for a network rule set. When DRG is turned on, it can robotically expand and contract rule sets to keep troubleshooting data at optimum levels constantly without human intervention. It will also allow for automatic ticket generation and report alarms raised by dynamically generated rules. DRG leads to fast notification, a swift service Impact Analysis, and results in the first self-regulating Root Cause Analysis in today's Network Management Software market.
Stop manually creating rules. Hands off the keyboard and allow the DRG cruise control to take over.
Dr. Stefan Köhler, CEO for Infosim® comments: "We at Infosim® believe you should receive the best value from your network, and exchange of information should be as easy as possible. The way we want to achieve these goals, is to simplify the usage and automate the processes you use to manage your network. Rules creation and deletion has been an Achilles' heel of legacy network management systems. With DRG, we are again delivering another new technology to our customers to achieve our goal of the dark NOC."
Marius Heuler, CTO for Infosim® comments: "By further enhancing the already powerful Root Cause Analysis of StableNet®, we are providing functionality to our users that will both take care of ongoing changes in their networks while automatically keeping the rules up to date."