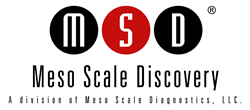 Our aim is to create a personalized service that will not only support, but also accelerate, the path to results.
Rockville, MD (PRWEB) June 08, 2015
"MSD can be the single technology platform for biomarker identification and assay development," said Dr. James Wilbur, General Manager. "Following biomarker identification, our assays are easily transferred to a customer's own lab or a CRO to continue validation studies, allowing for consistency across the entire study. This ensures the reproducibility and accuracy of results, and speeds up the biomarker research cycle."
These biomarker services leverage MSD's MULTI-ARRAY® technology, which has been widely adopted by researchers worldwide due to its high sensitivity, excellent reproducibility, and wide dynamic range. By utilizing, U-PLEX®, V-PLEX®, and S-PLEX™, each custom service can deliver rapid multiplex development, rigorous assay validation, or ultimate sensitivity to measure previously unmeasurable biomarkers depending on the requirements of the customer.
"Our scientists partner with customers to provide high-quality solutions that will help them achieve even the most challenging research goals," said Jacob Wohlstadter, President and Chief Executive Officer of MSD. "With 20 years of experience in immunoassay development, our aim is to create a personalized service that will not only support, but also accelerate, the path to results."
In conjunction with the launch of its Biomarker Services at the AAPS conference, MSD announced expansion of its U-PLEX platform. With the addition of over 80 human, mouse, and non-human primate assays, the U-PLEX platform will continue to help customers quickly and easily design and build personalized multiplex assays without compromising sensitivity or dynamic range. By utilizing U-PLEX linker technology, scientists can create custom panels from a selection of MSD assays, their own antibodies, or a combination of both.
For more information about MSD's services and products, call Customer Service at 1-240-314-2795; email customerservice(at)mesoscale(dot)com; or visit http://www.mesoscale.com.
About Meso Scale Diagnostics, LLC.
Meso Scale Diagnostics, LLC., based in Rockville, Maryland, develops, manufactures, and markets instruments and assays for array-based biological measurements for research use in life sciences and for biodefense applications. MSD is the world's leading provider of highly sensitive multiplex immunoassays. More information about MSD and its products can be found at http://www.mesoscale.com.