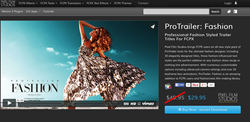 'Final Cut Pro X is lacking some essential plugins. We intend to satisfy the needs of fans of FCPX around the world and get them what they need,' said Christina Austin - CEO of Pixel Film Studios.
Aliso Viejo, CA (PRWEB) June 08, 2015
Pixel Film Studios brings FCPX users an all new style pack of ProTrailer tools for the ultimate fashion designer. Including 30 elegantly designed titles, these fashion influenced text styles are the perfect addition to any fashion show recap or clothing line advertisement.
ProTrailer Fashion includes 30 different presets to choose from. From clean and simple text to shiny and reflective, any style can be used to compliment any project. Full environment options including shadow and reflection options are included to give each title the subtle detail they need to really shine. With all of the included controls, FCPX users can fully customize the text to match the style they desire.
ProTrailer Fashion comes with 25 included dynamic animations for title movement. From simple fade-ins to bouncing and springing animations, FCPX users simply select the style they want and use the speed guides to adjust the timing. With no key-framing necessary to create animations, these time-saving elements are a valuable option to any film maker's tool-set.
With speed guides to help FCPX users control the duration of the selected animations, setting up trailer openers has never been easier. Utilizing all of the built-in 3D text controls, while implementing new effects like motion blur and camera focus features, professional Fashion-fused titles are just a few mouse clicks away.
Pricing and Availability:
The Pixel Film Studios Plug-ins are available today through the Pixel Film Studios website starting at $29.95 USD. For more information, please visit the Pixel Film Studios website.
Established in 2006, Aliso Viejo, California-based Pixel Film Studios is an innovative developer of visual effects tools for the post-production and broadcast community. Their products are integrated with popular non-linear editing and compositing products from Apple FCPX. Apple, the Apple logo, Mac OS X, and Macintosh are registered trademarks of Apple Inc. in the U.S. and/or other countries. All other trademarks and trade names are the property of their respective owners.