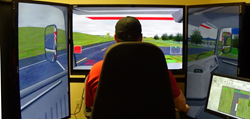 John E. Kearney, CEO/Manager of ATS commented "He is delighted that Mr. Mar has joined us in this official capacity. We look forward to increased success with Mr. Mar's leadership and vision".
St. Petersburg, FL (PRWEB) June 08, 2015
Advanced Training Systems LLC,("ATS") the industry leader in self-paced driver training simulation systems, announces that it has appointed Enrique Mar as Chief Operating Officer. ATS provides simulation and training processes to the truck driver training world and the trucking industry. Mr. Mar brings many years of experience in development, manufacturing and content innovation in the industry in the US, Mexico and Latin America.
Mr. Mar comes to ATS with a long history of experience commencing with his position as master distributor for I-Sim/GE Capital Driver Development ("GEDD") in Mexico where he was directly responsible for the sale and integration of simulator systems. Upon L-3's acquisition of GEDD, Mr. Mar's company initiated the process of developing a simulator platform that would allow ample flexibility in the sharing of components across various simulation platforms (car, truck, bus, motorsports) allowing for reduced assembly cost(s). These components and assemblies improve the end user's experience and produce successful training on the simulator systems by reducing/eliminating Simulator Associated Sickness (SAS). Until these developments, SAS has been one of the biggest reasons for resistance to simulator training, along with its high cost.
ATS is the singular driver training Simulator Company today holding US Patents on its Transmission, Glass Dashboard and Adaptive Training with further patents pending. These unique components have shown that the driver training process of novice drivers is possible without the need of a human instructor. The ATS training system allows training institutions to produce more drivers who are better qualified, safer, and more confident before they get into the vehicle. Thus, allowing human instructors to concentrate on the actual "Behind the Wheel" training on the roads and highways.
Since 2008, ATS has developed, tested and incorporated the latest in technology to increase the benefit to the "end user" and make the systems affordable to the training schools and institutions engaged in driver training.
Contact Information:
Advanced Training Systems LLC
Corporate Offices at:
9800 4th Street North, Suite 204
St Petersburg, Florida 33712
727.264.1444
800.870.5782
bhudson(at)atstrainingsystems(dot)com