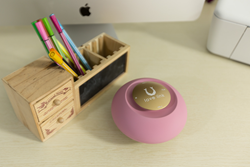 Washington DC (PRWEB) June 09, 2015
LoveLinkU robot, as its name suggests, is the world's first robot created to link people with love. Its functions and settings are designed for better emotional interactions instead of just primitive features. The robot is functional and affordable. The idea is to provide everyone a robot "concierge" or "companion", which can not only complete tasks by capturing the owner's words, but also provide the companionship that no other electronics can do. Why include these features? The creator, Tina Tian, believes that technology should nurture the connection of love among people instead of isolating them.
The LoveLinkU robot is designed to recognize a single person's unique voice print and interact with the user's home appliances. With the power of voice, the LoveLinkU robot can perform an array of tasks. Whether it's dimming the lights to set the mood, or preheating the oven while picking up the kids from practice, LoveLinkU does it all! But it doesn't stop there - it also empowers the users to control their home appliances remotely using their smartphones via voice. In addition, the robot's base functions as a wireless charger for phones and gadgets, so no hassle with cords.
Beyond the technological aspect, LoveLinkU can improve people's lifestyles too. The name – LoveLinkU - means that you, your family, and friends are connected by love everywhere you go. Its mobile app can keep track and share health data, family photos and videos easily with others.
Tina studied Virtual Reality (VR) and Precision Control while attending Purdue University (2010). During a visit to a US Army training center, Tina had the opportunity to see some of the virtual training, voice control and augmented reality that the military center used. Instantaneously, she fell in love with the subject of voice control and thought that every appliance at home should be able to understand people when spoken to. Her intentions were clear and her goals attainable - allowing the world to experience a lifestyle from the future at an affordable price. Now, people have the chance to interact with their homes on a whole other level!
Now, the ultimate voice controlled robot is here, and getting ready to change people's lives forever. It has made its first debut on Kickstarter on June 6th, 2015. Check out the Kickstarter page for more details, and don't miss out on this amazing opportunity to literally live in the future!