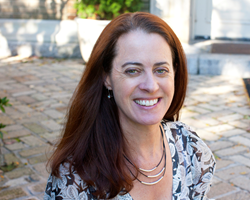 It's an honor to join the Smart Kids with LD Board and a pleasure to bring my passion to the great work that they do.
Westport, CT (PRWEB) June 09, 2015
Smart Kids with Learning Disabilities elected Sharon Plante, an award-winning technology educator and social media expert, to its Board of Directors. Currently, she serves as Director of Technology at Eagle Hill Southport, a school specializing in students with language-based learning disabilities. Smart Kids with LD, a non-profit, also named Ben Powers, Headmaster of Eagle Hill Southport, to serve on its Honorary Board.
Sharon Plante of Ansonia, Connecticut, is an award-winning educator. She believes firmly that engaging students in technology helps them to build empowering skill sets. For those with learning disabilities, she advocates the use of technology as an effective strategy to enhance independence and maximize individual strengths.
Last year, she received the "2014 Bammy Award for Special Needs Staff," given by the Academy of Education, Arts and Sciences for a significant contribution in the field of education.
She serves as the 2015-2017 Chair of the Connecticut Association of Independent Schools Commission on Technology. Recently, she was named as one of the "Top 100 Most Social K-12 Tech Leaders on Twitter 2015" by Huffington Post Tech.
She is the co-founder of #edtechchat, a weekly Twitter chat and podcast series.
With over 18-years of teaching experience in the special education field, she has spoken to a myriad of groups, specifically on the use of technology to empower the dyslexic learner. The list includes:

New York Chapter of ALTA (Academic Language Trainers Association)
ATIA (Assistive Technology Industry Association)
Everyone Reading
EdRev (Education Revolution)
Edscape
EdCamps
Sharon Plante earned her Master of Education from George Mason University and her certification in Educational Leadership and Administration from Sacred Heart University.
"It's an honor to be joining the Board of Smart Kids with Learning Disabilities," she said. "It's a wonderful organization and valuable resource for families with children with learning differences. As an educator in the field, it will be a pleasure to bring my passion to the great work they do."
Her passion and expertise will help the non-profit improve its public outreach into the social media world, according to Jane Ross, Executive Director of Smart Kids with LD. "I'm delighted," she said, "to have the opportunity to work with Sharon Plante, who is a much-loved teacher as well as a force in the world of LD and social media."
Reported Dr. Marjorie Castro, Head of Eagle Hill School in Greenwich and Board President of Smart Kids with LD, "What a great addition to our Board," she said. "Sharon is enthusiastic and a terrific advocate for kids with learning differences. I support her nomination whole heartedly!"
Smart Kids with LD also named Ben Powers of Fairfield, Connecticut, to serve on its Honorary Board. He is Headmaster of Eagle Hill Southport and a past Board member. He is currently working on his thesis for his doctorate from Grenoble Graduate School of Business.
He received his BA in Russian, French and Political Science from La Salle University and his Executive MBA in Leadership, Innovation, Strategic Thinking and Finance from Rochester Institute of Technology.
Formerly, he served as Headmaster of Kildonan School in Amenia, New York, as well as the Director of Kildonan's summer program, Dunnabeck, for students, ages 8 to 16, with dyslexia and language-based learning disabilities.
He is an Associate Member of the Orton-Gillingham Academy and a Board member of Headstrong Nation, a non-profit created by and for adult dyslexics.
"From my first experience attending a Smart Kids Gala many years ago, I was taken by the incredible reach, both geographically and emotionally, that this organization has in the LD community," reported Ben Powers. "Over the years, I have developed a deep admiration and respect for the work that Jane Ross and the Smart Kids Board have done to help empower so many children and families, as well as their capability to build awareness about both the needs and strengths of the people within the community."
He added. "I am honored – and quite humbled— to be asked to serve as an Honorary Board member."
Smart Kids with Learning Disabilities, Inc.
Smart Kids with Learning Disabilities, Inc. is a Westport-based nonprofit organization dedicated to empowering the parents of children with learning disabilities (LD) and attention deficit disorders (ADHD) via its educational programs, award-winning website and blog, and free e-newsletter at http://www.SmartKidswithLD.org. The organization also educates the public about these children's gifts and talents. Connecticut Governor Dannel Malloy is an Honorary Board member and Henry Winkler, Golden Globe award-winning actor, director and author, serves as the organization's Honorary Chairman.
For more information, visit http://www.SmartKidswithLD.org