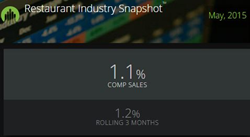 Dallas, Texas (PRWEB) June 08, 2015
Same-store restaurant sales were 1.1% during May, which represents a 0.8% drop from the growth rate reported for April. Despite the softening sales growth during the month, the industry has now posted eleven consecutive months of positive same-store sales growth and Q2 is poised to become the fourth consecutive quarter of positive growth in comparable stores, a first in almost three years. This insight comes from data reported by TDn2K's Black Box Intelligence through The Restaurant Industry Snapshot for May, based on weekly sales from over 20,000 restaurant units representing $55 billion dollars in annual revenue.
"The industry continues to experience an encouraging period of expansion and we remain optimistic about 2015 resulting in another year of positive sales growth for restaurants," said Victor Fernandez, Executive Director of Insights and Knowledge for TDn2K. "However, as the U.S. economy has been showing some signs of slowdown during the first half of the year, which goes beyond just the effect of bad winter weather, the chain restaurant industry has also shown signs of sales growth beginning to slow down. The decline in May was unexpected but not inconsistent with macroeconomic results. We will monitor results closely to see if performance returns to levels consistent with our more favorable forecasts for this year".
The main concern since the recession has been the declining guest counts of the chain restaurant industry as a whole. People are simply not visiting chain restaurants as often as they used to, and it is really increasing average guest checks which are driving the growth in sales. Same-store traffic growth during May was -2.3%, a 0.8% decrease from the April growth rate.
"The fact that both sales and traffic growth dropped by exactly the same amount indicates that the declining sales growth was driven directly by the decline in guest counts during May. Average guest check growth remained constant during the last two months at 3.3%," continued Fernandez.
Another indicator of the softening sales during May can be found in the regional results. While in April, all regions of the country posted positive same-store sales growth; during May three of the eleven regions dipped back into negative sales growth territory. The best performing region during May was Mountain Plains with same-store sales growth of 3.2%, while the worst performing region was the Southwest with -1.3% growth. The slowdown in sales was also evident at the local level, with 117 (or 62%) of the 190 DMAs tracked by Black Box Intelligence experiencing positive same-store sales during May. As a comparison, the percentage of markets with positive sales growth in April was 78%.
The latest data from TDn2K's People Report shows that as sales improved in April after a downturn in March, job growth also picked up in April after a drop the previous month. The annual rate of job growth was 2.3% during April, an increase from the 1.9% reported for March. Although still creating plenty of jobs, the restaurant industry's job growth has begun to slow down. After year-over-year job growth at 3.0% or above for the previous sixteen consecutive months, the last two months have posted growth rates closer to 2.0%.
As the labor market continued to tighten during April, retention continued to become increasingly challenging for restaurants. Restaurant-level rolling 12-month hourly and management turnover both increased during April. The industry has now gone through increases in restaurant management turnover during twelve of the last thirteen months, while restaurant hourly employee turnover has now increased steadily for 20 consecutive months.
Regarding guest satisfaction, TDn2K's White Box Social Intelligence data revealed that out of three key attributes ("food", "service" and "intent to return"), food continues to be overwhelmingly the largest in terms of number of online mentions. However, the percentage of posts that mention food have been decreasing continuously since the beginning of the year. While 89% of all online mentions were based on the "food" attribute in January, only 81% of these mentions included this attribute during May. The attribute that has been becoming relatively more important in terms of its number of mentions has been service. In January, 7% of all online posts featured "service," while the percentages for April and May were 16% and 14% respectively.
In terms of the attribute that generates the highest percentage of positive mentions, "intent to return" continues to be the leader since the beginning of the year. In May, 35% of all "intent to return" mentions represented a positive sentiment, while the percentage of positive food mentions was 29% and for service it was a much lower 20%
The segment that generates the highest percentage of positive mentions for these three attributes has been upscale casual/fine dining for the last three months. For the first time since White Box Social Intelligence started tracking these attributes, the same segment (upscale casual/fine dining) was the leader in all three attributes based on percentage of positive mentions during May.
TDn2K (Transforming Data into Knowledge) is the parent company of People Report, Black Box Intelligence and White Box Social Intelligence. People Report provides service-sector human capital and workforce analytics for its members on a monthly basis. Black Box Intelligence provides weekly financial and market level data for the restaurant industry. White Box Social Intelligence delivers unparalleled consumer insights and reveals online brand health. Together they report on over 30,000 restaurant units, one million employees and 55 billion dollars in sales. They are also the producers of two leading restaurant industry conferences: Summer Brand Camp and the Global Best Practices Conference, each held annually in Dallas, Texas.