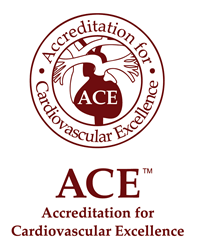 We now have data that clarify and support the value of ACE accreditation as an evidence-based tool for demonstrating excellence in cardiovascular care. -- Bonnie H. Weiner, MD, ACE Board Chair and CMO
Washington, DC (PRWEB) June 08, 2015
Diagnostic and Interventional Cardiology this week published a new article highlighting the value of ACE accreditation for cardiac catheterization laboratories. The article features new data on quality metrics presented at the 2015 Society for Cardiovascular Angiography and Interventions (SCAI) annual meeting.
"In today's increasingly competitive healthcare industry, cardiac catheterization laboratories must find practical strategies to differentiate themselves while upholding the highest standards of patient care," said Bonnie H. Weiner, MD, MSEC, MBA, MSCAI, FACC, ACE Board Chair and CMO. "We now have data that clarify and support the value of ACE accreditation as an evidence-based tool for demonstrating excellence in cardiovascular care," Dr. Weiner said.
Read more about the value of ACE accreditation here: http://bit.ly/1FTVU0T
This weekend, ACE's leadership in quality cardiovascular care will also be featured at the 11th Annual Complex Cardiovascular Catheter Therapeutics: Advanced Endovascular and Coronary Intervention Global Summit (C3). An ACE board member and staff will lead a keynote presentation and a special nurse and technologist symposium. The 2015 C3 Conference will take place June 14-18, 2015, at the Hilton Bonnet Creek in Orlando, Florida.
Christopher J. White, MD, FACC, MSCAI, FAHA, FESC, ACE Board Secretary, will deliver the C3 Keynote Lecture, "Uncle Sam Commits Malpractice: CMS Kills Carotid Stenting," beginning at 8:30 am on Monday, June 15th, in Salons 4-6. Dr. White is Chief of Medical Services for the Ochsner Medical Center-New Orleans, Professor of Medicine for the Ochsner Clinical School-University of Queensland, and Past President of SCAI.
Sheree Schroeder, MSN, RN, RDCS, FASE, ACE Senior Director of Quality Review Services, will moderate the Nurse and Technologist Symposium on Sunday, June 14th, beginning at 8:00 am in Salons 10-12. The symposium will focus on the critical roles these healthcare professionals play in maintaining the highest standards of patient care. As part of the symposium, Ms. Schroeder will present the lecture, "Mitigating Your Risk with 'Stand Alone Structured Reporting' in the Cardiac Cath Lab," beginning at 8:30 am.
Register and learn more about the 2015 C3 Summit here: http://www.c3conference.net/. Be sure to follow ACE's meeting coverage on Twitter (@ACE_CVEXCEL) for the most current information on quality sessions. See you there!
About Accreditation for Cardiovascular Excellence (ACE)
ACE is the global leader in accreditation and external quality review services for all catheter-based cardiovascular procedures. ACE, an independent organization sponsored by SCAI, offers independent evaluation and monitoring of facilities that provide cardiovascular care. By reviewing facility and operator performance and comparing clinical decision-making to nationally accepted best practices, ACE quality review and accreditation services play a critical role in continuous quality improvement programs. Join us. Let us exceed your expectations and provide a free consultation. Contact ACE at info(at)cvexcel(dot)org or call our office at 202.657.6859 or visit our website at http://www.cvexcel.org.