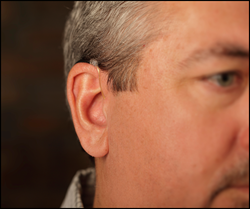 The Sidekick's low price and 30 day money back guarantee reduces a new user's risk and, hopefully, helps people decide to address their desire for a bit of help with their hearing sooner," said Shawn Stahmer, VP for Sound World Solutions.
Park Ridge, IL (PRWEB) June 08, 2015
Sound World Solutions is proud to introduce the Sidekick – our newest personal sound amplifier product and the latest step in putting control of their hearing into the hands of consumers. Designed for those who need occasional hearing help but are not yet ready to make the move to getting a hearing aid, the Sidekick serves up a slim behind-the-ear style expressly developed for on-the-go lifestyles. With millions of Americans needing at least occasional help with their hearing, the Sidekick not only delivers the ability to amplify whenever help is needed, but also provides the ability to fine tune the listening experience on demand. While it incorporates many of the same features typically found in devices costing thousands of dollars, such as multi-channel compression and noise reduction, output compression, feedback cancellation, and directional microphones, the Sidekick is remarkably affordable at $249 for a single kit, or $399 for a dual kit. Consumers can order the Sidekick directly by going to http://www.soundworldsolutions.com/personal-sound-amplifiers-psa/the-sidekick.
Like its predecessor, the popular CS50+ personal sound amplifier, the Sidekick also includes Bluetooth capability to access advanced personalization. The CS50+ is styled to appear like a consumer electronic Bluetooth headset whereas the Sidekick is styled to disappear behind the ear like a hearing device. While the style may be different, these two devices find common ground in their ability to connect with Sound World Solution's free Customizer App. With the app, users walk through a short personalization program to create a customized sound profile. The Customizer App also includes an equalizer that allows users to adjust treble, mid-range and bass frequencies to further personalize their sound. The app is compatible with Apple iPhone, Android, or desktop computers. The Sidekick can be used right out of the box, offering the ability to adjust volume and access settings designed for specific environments simply by toggling between three preset amplification profiles.
Depending on the user's preference, the Sidekick can be worn on one ear or Sidekicks can be worn on both ears, and each device includes an adjustable tube to accommodate personal fit. Available in three colors - black pearl metallic, steel grey metallic, or white gold metallic - the device remains nearly invisible, blending in with most hair colors. The Sidekick features a rechargeable battery, providing 18 hours of life per charge. Charging is a simple matter of plugging the included micro USB cable into the base of the unit itself. The Sidekick comes with a convenient zippered carrying case and several different sizes of our specially designed ear tips that provide excellent comfort and a great seal to reduce feedback.
When paired via Bluetooth, the Sidekick can be used to take or make phone calls or stream a variety of audio sources including music, audio books and podcasts. The Sidekick is multi-lingual. For all of the common settings on the device, the Sidekick provides voice prompts in your choice of 4 languages (English, Spanish, French, and Hindi). So instead of simply hearing beeps, you will hear a voice confirming such changes as "Volume Up", "Volume Down", "Connected", or "Battery Low".
"Research has shown that people usually wait 7-10 years before finally getting help with their hearing. The Sidekick's low price and 30 day money back guarantee reduces a new user's risk and, hopefully, helps people decide to address their desire for a bit of help with their hearing sooner," said Shawn Stahmer, VP of Business Development for Sound World Solutions.
About Sound World Solutions – a Passion for Connection
Sound World Solutions designs, manufactures and markets high quality, affordable hearing devices that help people rediscover the power of connection - regardless of geographic location or economic circumstance.
To succeed, we rethought every component and accessory of the system…from how hearing technologies are designed and produced, to how individuals have their hearing screened and fitted, to the delivery and maintenance of hearing solutions in both mature and developing nations.
The result is a line of state-of-the art, smartphone-enabled hearing aids and personal sound amplifiers that provide high-end performance, comfort, and intuitively-programmed customization at a fraction of the cost of traditional hearing solutions – using nothing more than a Bluetooth connection to a smartphone or tablet.
We market our products in the United States via respected and forward-looking retail, e-commerce, clinical and audiology channels. In developing nations, we partner with global businesses, as well as local mission-based organizations.
Learn more at http://www.soundworldsolutions.com