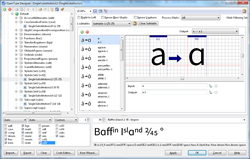 Font designers will love the fact that FontCreator now fully supports all OpenType layout features
Amsterdam (PRWEB) June 11, 2015
High-Logic, the leader in providing font software, today announces FontCreator version 9, coming with the most comprehensive coverage ever of visual editing of OpenType layout features, a redesigned font preview which instantly shows OpenType features, and major improvements to both optical metrics and automatic kerning. We've also improved usability and added tons of enhancements to increase productivity.
"With the huge popularity of professional fonts being used in desktop applications and web sites, you will love the fact that FontCreator now fully supports all OpenType layout features in the enhanced OpenType Designer. With this major new release, FontCreator now supports all OpenType features required by complex fonts such as Hebrew, Arabic, and Devanagari. It provides powerful tools for creating and editing OpenType features without the need to know how to code," says Erwin Denissen, CEO of High-Logic.
Two of the most important and tedious tasks are defining correct left and right side bearings for your glyphs so they look great for most glyph pairs, and ensuring all other pairs look great as well, by adding kerning pairs. With the professional edition of FontCreator 9 these two tasks are greatly improved and simplified, and if you wish to manually fine-tune results, you'll enjoy the enormous head start.
We introduced editing glyphs in a word or sentence context over 10 years ago, but with this release we've further enhanced it to support all OpenType features. The glyph overview comes with the following new categories: Currency Signs, Punctuation, Symbols, and many more. Returned support for custom naming fields allow you set localized naming fields to your fonts.
FontCreator runs on Windows XP, Vista, 7, 8, 10 (32/64 bit). You can design and export OpenType, TrueType and Web Open Font Format (WOFF) fonts which can be used on all platforms and mobile devices.