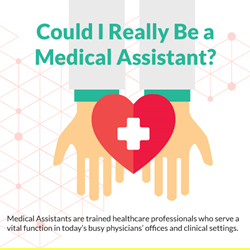 The Porter and Chester Medical Assisting program takes a hands-on approach
Rocky Hill, CT (PRWEB) June 09, 2015
Porter and Chester Institute, a career training school with campuses in Connecticut and Massachusetts, has created a brand new infographic that highlights the career of a medical assistant. "Could I Really Be a Medical Assistant?" explains the profession in an easy-to-understand format designed to appeal to someone who wants to learn about the profession.
The infographic outlines the qualities one would need to be a good medical assistant including such traits as compassion, attentiveness, professionalism, good communication skills, and more. It goes on to explain the steps to take to enter the field. At the tops of the list is good career training.
Highlighting its own career training, Porter and Chester Institute explains some of what is taught to future medical assistants at the school. Its medical assisting program takes a hands-on approach, where students are taught by professionals from the field. Students learn fundamental concepts in anatomy and medical terminology, but also the clinical skills they will need to succeed in the profession and the "soft skills" that today's employers look for most when they hire.
In addition to offering step-by-step instruction on becoming a medical assistant, the infographic also gives data on the job prospects for someone entering the field. Noting that healthcare is a $21 billion industry, it cites projections from the U.S. Bureau of Labor Statistics that predict much faster than average job growth for medical assistants through 2022. It also gives examples of the types of private practices and healthcare facilities where medical assistants could be employed.
For more information about a medical assisting career, those interested can access the infographic now or visit the school's website for more detail about the Porter and Chester Institute Medical Assisting programs.
About Porter and Chester Institute:
Porter and Chester Institute is a Connecticut-based postsecondary institution with more than 60 years of experience providing technical, business, and healthcare occupational preparation. Founded in 1946, the Institute trains more than 3,000 students annually through its nine campuses in Connecticut and Massachusetts. Porter and Chester Institute is accredited by the Accrediting Commission of Career Schools and Colleges (ACCSC), is approved by the Connecticut Office of Higher Education, and licensed by the Commonwealth of Massachusetts Division of Professional Licensure, Office of Private Occupational School Education. Porter and Chester Institute uses hands-on education to prepare students for successful careers in a variety of fields.