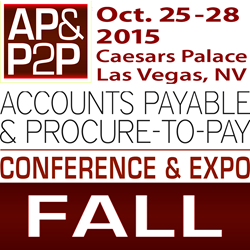 enormous effort goes into keeping AP processes so streamlined; they're often clunky, and it takes an innovative individual or group of minds to really make them shine. It's time for those individuals and departments to be recognized for their efforts
Portland, ME (PRWEB) June 09, 2015
The AP Network (TAPN), the world's largest AP-focused organization, kicked off the nomination period this week for its 2015 AP Manager of the Year and AP Department of the Year Awards. The awards, now several years running, will be presented at the fall Accounts Payable & Procure-to-Pay Conference & Expo, taking place October 25-28 at Caesars Palace in Las Vegas.
2015 marks the first year that four total awards will be given; the AP Manager of the Year Award will be presented to two individuals; an AP Manager of a small organization (under $1 billion annual revenue), and an AP Manager of a large organization (over $1 billion annual revenue). AP Department of the Year Awards will also be divided among large and small organizations.
"Accounts Payable is the unsung hero of many organizations," said Brian Cuthbert, Executive Director of The AP Network. "Most organizations have an AP department, yet they often operate under the radar – especially if they are successful, because their processes are seamless. What many of their coworkers do not realize is that an enormous amount of effort goes into keeping AP processes so streamlined; they're often clunky, and it takes an innovative individual or group of minds to really make them shine. It's time for those individuals and departments to be recognized for their efforts," he added.
Contest guidelines define a qualifying AP Manager or Director as one who demonstrates excellent leadership skills, makes significant positive changes to their department, and brings to life new technologies that incur significant operational savings. Likewise, a qualifying AP department demonstrates excellent customer service, successfully streamlines processes and new technologies, and has recently cut costs with better cash management and prompt payment discounts.
The nomination deadline for the contest is Friday, August 14, 2015. Qualifying managers and departments are encouraged to nominate themselves. AP experts from The AP Network and Institute of Finance and Management (IOFM) will review submissions and select award winners. For more information, go to http://www.iofm.com/conference-fall-news/awards.
For more information about the fall 2015 AP & P2P Conference & Expo, contact Gail Robinson at 207-842-5627 or visit the conference website.
About The AP Network
The AP Network is the largest global community for Accounts Payable, Procure-to-Pay and Financial Shared Services practitioners. TAPN advances the profession and supports its members' success by sharing best practices, tools, and expertise and by fostering peer-to-peer engagement.
The AP Network is one of three membership network within the Institute of Finance and Management (IOFM). IOFM oversees five certification programs which have trained more than 15,000 financial operations professionals worldwide. IOFM's three membership networks (The AP Network, The AR Network and The Controllers Network) feature industry research, benchmarking data, metrics, case studies, tools and other critical compliance resources. The Institute also produces on-demand e-learning resources and industry-leading conferences dedicated to AP, AR and Controllers. With growing certification and membership programs and a keen understanding of the issues and content critical to the profession, IOFM is the trusted source of information in the rapidly evolving field of financial operations.