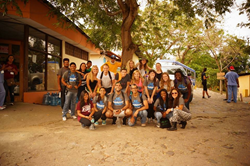 "It's really amazing to see young people give so much time and effort to such an outstanding cause," says Coastal Orthopedics CEO Paige LeMay. "When we heard about what these USF students were doing, we offered to do whatever we could."
Bradenton, Fla. (PRWEB) June 08, 2015
Coastal Orthopedics Sports Medicine and Pain Management (CoastalOrthopedics.com) donated clinical supplies to a dedicated and selfless group of University of South Florida students who traveled to Nicaragua in May to provide basic medical services to communities in need. During their weeklong stay, 28 USF students helped approximately 700 Nicaraguans.
The students who participated are all members of the USF chapter of Global Brigades, an international nonprofit that connects undergraduates with under-resourced communities around the world. The organization is entirely student-run, and focuses on what it calls "holistic development," creating health, economic and educational projects that together helps meet a community's development goals.
The USF medical brigade is made up of roughly 35-40 students each year. The college is also home to dental, public health, water and business brigades.
During their nine-day trip to Estelí and Sacacli, Nicaragua, USF volunteers took patient vital signs and recorded patient histories, shadowed doctors and dentists during consultations and assisted pharmacists. The group raised $37,000 to fund the trip and provide supplies.
The USF group travels abroad once a year, visiting Nicaragua, Honduras, Panama or Ghana. In between those visits, Global Brigades' in-country team maintains relationships with the affected communities and offers training programs to develop local leadership. Electronic patient records are collected for future visits and to monitor progress.
Alexandra Grzybowski serves as president of the USF medical brigade. Her brother, Andrew Grzybowski, works at Coastal Orthopedics. When he learned of the Global Brigades volunteer trip, he asked Coastal Orthopedics leadership if the organization would be willing to support the effort. He delivered the clinical supplies from Coastal to the Global Brigades chapter just days before the students departed for Nicaragua.
"Global Medical Brigades at USF is very grateful for Coastal Orthopedics' generous donation of much-needed medical supplies," says Alexandra Grzybowski. "Not only do the supplies help ensure that our long-awaited brigades run smoothly, it's also wonderful to have the support of such a great organization."
"It's really amazing to see young people give so much time and effort to such an outstanding cause," says Coastal Orthopedics CEO Paige LeMay. "When we heard about what these USF students were doing, we offered to do whatever we could."
About Coastal Orthopedics Sports Medicine & Pain Management
Founded in 1973 and based in Bradenton, Florida, Coastal Orthopedics is home to 16 orthopedic surgeons and pain management physicians who maintain hospital affiliations with Blake Medical Center, Manatee Memorial Hospital and Lakewood Ranch Medical Center. In addition to three offices and two surgery centers each servicing Florida's West Coast, Coastal Orthopedics' board-certified and fellowship-trained physicians and surgeons provide patients with the very latest in pain and orthopedic treatment technology. The company strives to repair and heal injuries relating to the entire musculoskeletal system. For more than 40 years, our highly skilled staff of physicians and surgeons has treated patients in specialty care including sports medicine, joint replacement, pain management and rehabilitation. Patients can experience restoration of function both surgically and non-surgically through the use of physician-guided strengthening, therapy, medications, injections and stretching. For more information, visit coastalorthopedics.com or call 941-792-1404.