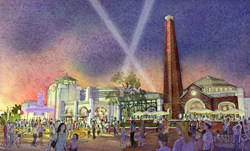 New York, NY (PRWEB) June 09, 2015
Patina Restaurant Group and Kinetescape's Andrew Meieran announce that they will open The Edison, a lavish "Industrial Gothic" -style restaurant, bar and nighttime destination at the new Disney Springs at Walt Disney World Resort. Famous for exceptionally good classic American food, craft cocktails and live entertainment including cabaret and music, The Edison is inspired by its sister location in Los Angeles and set in a historic power plant.
The Edison is dedicated to a resurgence of old world-style sophistication and romance. The Florida venue will be themed to a 1920s-period electric company and recall an exuberant era of invention and imagination. Featuring 35-foot ceilings and a range of themed areas to explore, The Edison will have The Lab performance space, The Ember Parlour, Telegraph Lounge, The Patent Office, The Tesla Lounge, The Radio Room, Waterfront Patio and more. Entertainment will include contortionists, palm readers, DJs and more. Andrew Meieran's vision and designs will be executed by Gensler Architects.
The Edison joins a growing family of new additions to Downtown Disney. Downtown Disney is currently undergoing the largest expansion in its history, to be renamed and re-imagined as Disney Springs, an exciting new waterfront district for shopping, dining and entertainment. The Landing, one of four neighborhoods planned for Disney Springs, will welcome The Edison in 2016.
"We are delighted to bring this extraordinary destination to the new Disney Springs," said Nick Valenti, restaurateur and CEO of Patina Restaurant Group.
For dining reservations and more information about The Edison, guests will be able to visit https://disneyworld.disney.go.com/dining in the future.
About Patina Restaurant Group
Patina Restaurant Group (http://www.patinagroup.com) is a bicoastal boutique company and leader in the premium segment of the restaurant industry. In New York, its portfolio features the Michelin-starred Lincoln Ristorante, STATE Grill and Bar at the Empire State Building, Stella 34 Trattoria at Macy's Herald Square, The Sea Grill at Rockefeller Center, Brasserie, Brasserie 8 1/2, The Grand Tier Restaurant at the Metropolitan Opera, La Fonda Del Sol at Grand Central, and The Rink at Rockefeller Center. Other East Coast properties include Tutto Italia Ristorante and Via Napoli at the Epcot World Showcase in Lake Buena Vista, Fla. On the West Coast its portfolio includes the renowned Los Angeles Times' four-starred and Michelin-starred Patina Restaurant in Walt Disney Concert Hall, Café Pinot, Ray's & Stark Bar, Catal and Naples in Anaheim's Downtown Disney District, Leatherby's Cafe Rouge, and catering and food service in museums and cultural centers throughout California.
Inspired by The Edison in LA
The Edison sits inside the historic Higgins Building in downtown Los Angeles and was designed and created by Andrew Meieran in February 2007. An AIA award winner, The Edison has won global recognition and design awards nationally and internationally, including being repeatedly named one of the world's top 20 bars in GQ, Esquire, Condé Nast Traveler and The Los Angeles Times. The Edison has been featured in many other renowned publications, television programs and films for its unique visionary design, has been the winner of the Zagat Guide's Best Design Category, and has been named the best bar/lounge in Los Angeles every year since it opened.
About Disney Springs
Representing the largest expansion in Downtown Disney history, Disney Springs will be a one-of-a-kind Disney experience, treating guests by day and night to great dining, shopping and entertainment amid beautiful open-air promenades, flowing springs and waterfront charm. With an air of sophisticated grace and design that harkens to Florida's waterfront towns at the turn-of-the-century, Disney Springs will be home to four distinct, outdoor neighborhoods opening in phases: The Landing, Town Center, Marketplace and West Side. The Landing, as the first of the four neighborhoods and home to unique and memorable dining experiences, is opening spring 2015.
When fully completed in 2016, Disney Springs will double the number of shopping, dining and entertainment venues – from the current 70 to approximately 150.
Disney Springs is part of Walt Disney World Resort, the number one family vacation destination in the world, located in Lake Buena Vista, Florida.