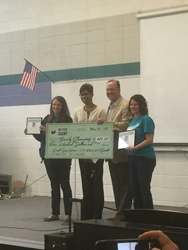 Batteries contain heavy metals such as mercury, lead, cadmium, and nickel, which can contaminate the environment when batteries are improperly disposed of.
Southfield, MI (PRWEB) June 08, 2015
Detroit Area-based Battery Giant announced the winner of its annual Earth Day Battery Recycling program, a city-wide program designed to encourage children and teens to be green and recycle batteries. Beverly Elementary School in Beverly Hills, Mich., led the Detroit-area school and organization competition by collecting over 1,250 pounds of old and used batteries. In return for their efforts, they were rewarded with a donation of $400 from Battery Giant. East Detroit High School came in second place with 550 pounds of batteries and Cub Scout Troop 1094 placed third with 430 pounds.
In all, 17 schools and youth organizations participated in the recycling drive, which resulted in the collection of 4,652 pounds, or almost a half a ton of batteries. For the past 2 years, Battery Giant has held a recycling drive during the week of Earth Day to raise awareness of the importance of battery recycling and to collect and properly recycle batteries that could lead to harmful chemicals entering the eco-system. More than 200 million pounds of used batteries end up in landfills throughout the U.S. each year. Since Battery Giant founded the Earth Day Battery Challenge program in 2014, it and affiliate companies have recycled more than 12 million pounds of batteries.
Types of batteries collected included automotive, drill, laptop, alkaline and many others. While this was a week-long recycling drive, Battery Giant accepts batteries for recycling free-of-charge throughout the year. The participating groups have pledged to continue their recycling efforts year-round.
"This was a great opportunity to partner with local schools and help get the word out about the benefits of recycling batteries," said Greg Danziger, president of Battery Giant. "Batteries contain heavy metals such as mercury, lead, cadmium, and nickel, which can contaminate the environment when batteries are improperly disposed of."
In landfills, heavy metals have the potential to leach slowly into soil, groundwater or surface water. Dry cell batteries contribute about 88 percent of the total mercury and 50 percent of the cadmium in the municipal solid waste stream. In the past, batteries accounted for nearly half of the mercury used in the U.S. and over half of the mercury and cadmium in the municipal solid waste stream. *
"Our recycling programs have been embraced in the communities our corporate and franchise Battery Giant locations serve," said Danziger. "The programs continue to generate interest in new markets for qualified franchise partners as we look to grow current and new locations utilizing our recycling programming, consumer and commercial sales of batteries developing into a strong opportunity for entrepreneurs"
*courtesy BatteryRecylingUSA.com / Energy Products
About Battery Giant
Headquartered in Madison Heights, Michigan, the Battery Giant currently operates or franchises twenty (28) retail locations throughout the United States, Puerto Rico and Panama offering a wide range of replacement batteries and battery products. Battery Giant began franchising its model in 2010 and has targeted MI, FL, IN and New York states for growth. With a focus on the environment, Battery Giant helps consumers recycle their batteries and old cell phones by conveniently offering free recycling at each of their store locations. It is a point of pride for the company to provide its customers with the most innovative, cost-effective, and knowledgeable solutions available along with friendly customer service.
For more information about Battery Giant, battery recycling, green power solutions, or franchise opportunities, visit their website at http://www.batterygiant.com, or contact Greg Danziger, President, at 248-414-1884.
-###-