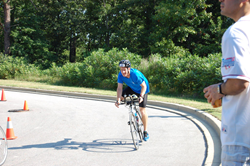 Columbia, South Carolina (PRWEB) June 10, 2015
The Tri the Midlands sprint triathlon returns to Lake Carolina on Saturday, June 20th, 2015. Athletes can suit up and hit the finish line for an 8 am race start. The event includes a 500m swim, a 14-mile bike and a 5km run. The lake swim is a triangular course, beginner-friendly and a deep-water start.
Rural, rolling hills account for most of the 14-mile bike ride that begins and ends at the entrance of Lake Carolina. The event finishes with a 5km run through the scenic trails of Lake Carolina and ends on the Village Green.
The finish line area includes open space for spectators, family and friends to watch and cheer on participants. From the Village Green, spectators can see parts of both the biking and running portions of the race. Those of ages 10 years and older are welcome to register and participate in the event. The Hampton Inn in Northeast Columbia is the host hotel for Tri the Midlands 2015. This event is part of the South Carolina Triathlon Series and is a USA Triathlon sanctioned triathlon.
There a variety of registration categories for the race, as well as early registration and easy online access to all the event details. For more information, visit the Set Up Events page for Tri the Midlands.
For more information about Lake Carolina, contact info@lakecarolina.com or 803-736-5253.
About Lake Carolina
Lake Carolina, situated on 1850 acres in Columbia, S.C., has been named Community of the Year for a decade, and offers one of the best master planned communities in the area. Within the community are over six miles of shoreline on a 200-acre freshwater lake for fishing, sailing, boating and waterskiing; 30+ miles of walking trails; a Town Center with shopping, dining and professional services; Columbia's newest YMCA; Richland 2 schools; and 20+ community events each year. Lake Carolina offers homes for sale from the $140's to $700's and homesites from $40's to high $200's.