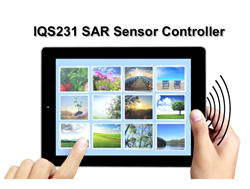 The IQS231 is the first SAR controller specifically designed to meet the latest FCC SAR specifications and simplify certification testing
Austin, TX (PRWEB) August 26, 2015
Azoteq, the world leader in proximity and touch solutions, today announced the release to market of the IQS231. Azoteq has long held a leadership position in SAR applications. The IQS231 is designed to meet the very latest FCC SAR specifications and simplify qualification testing.
The IQS231 offers one self-capacitance or one mutual-capacitance channel in a small SOT23-6 package. The device offers a unique human detection mode that senses minute movements when a user holds a device. This enables the device to distinguish between a user holding the device and when the device is placed on a metal table. The failsafe mode provides a heartbeat for safety critical applications.
The IQS231 can be operated in standalone or I2C modes. The device also offers a mode where the device can be configured in I2C mode and then switched to standalone mode to reduce the noise generated by I2C communications. The IQS231 can detect if the device is held during power on and a quick release due to human interaction. In fast response mode the device only draws 80uA and in low power mode only 5 uA while sensing, making it ideal for battery applications.
"Azoteq has been trusted for almost 10 years to provide SAR solutions and the IQS231 builds on this expertise", said Jean Viljoen, VP of Marketing. "The IQS231 meets the latest FCC SAR specifications and simplify certification testing."
Features:

Optimized for SAR applications
Human movement detection - distinguish between humans and inanimate objects
Failsafe operation with heartbeat
Quick release to detect human interaction
Minimal external components
Standalone and I2C modes
OTP or I2C configuration
Optional external threshold adjustment
Self and Projected capacitive sensing
Hand-held power on detection
Synchronization with RF transmit/receive
Low power modes: 100Hz, 30Hz, 8Hz, 4Hz sample rates
1.75V to 3.6V Supply voltage
Replacement solution for the IQS128
6 pin TSOT23-6
Applications

SAR Sensor
Hybrid antennas (RF and capacitive sensing combined)
Movement sensing applications (user interaction detection, anti-theft)
Hold detection for screen activation
On-ear detection
Pricing and Availability
The IQS231 is priced at $0.24 in quantities of 1K.
Mouser Electronics has IQS231 samples and production quantities available now.
About Azoteq (Pty) Ltd
Azoteq (Pty) Ltd (http://www.azoteq.com) is the world leader in proximity and touch solutions for switches, sliders, scroll wheels and touch screens in consumer and industrial applications. Azoteq (Pty) Ltd has design and manufacturing centers in South Africa and China, and sales offices and distributors in South Africa, Asia, Europe and the USA.
IQ Switch®, ProxSense®, LightSenseTM, AirButton®, DYCALTM are trademarks of Azoteq (Pty) Ltd.
Editorial Contact & Interviews:
Jean Viljoen
+27-21-863-0033
jean.viljoen(at)azoteq.com
http://www.azoteq.com