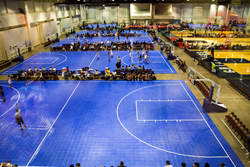 It is rewarding to be chosen once again as the AAU Big Mountain Jam's Official sports flooring
Salt Lake City, Utah (PRWEB) June 23, 2015
The weather in Salt Lake City, Utah is heating up and so is competitive basketball. Considered to be one of the biggest basketball tournament events in the Western United States, the AAU Big Mountain Jam returns to the South Towne Expo Center June 25-27, 2015. Over 380 teams will converge on Utah's capital city for 3 jam-packed days of basketball action. Teams comprised of boys and girls, grades 3rd to varsity, will compete on 32 qualifying and championship courts featuring the multi-patented SnapSports® BounceBack® ShockTower® surfacing, the industries top rated performance and safe play basketball courts.
"With athletes of all ages competing in several games per day, it's the responsibility of AAU to provide the safest surface during play. SnapSports Indoor ShockTower surfaces guarantee better joint protection for our athletes, not to mention providing our tournaments with easy and fast installation." – Matt Williams, 2nd President AAU, President 'Jam On It'
The 'Jam On It' Big Mountain Jam, All Under 1 Roof, lives up to its name by combining 3 events into one fun-filled weekend. The Big Mountain Jam Team Camp, AAU Tournament, and High School Team Tournaments will fill the 200,000 square foot South Towne Exposition Center; inviting spectators and athletes to enjoy the energetic atmosphere full of great competition, games, vendors, bounce houses, and a team store.
SnapSports, a Utah based sports flooring manufacturer, is excited to be a part of that energy, bringing the action back to their hometown for another year. Having been chosen for its unmatched durability, ease of installation, high performance, and safe play, SnapSports is proud to continue their long-standing partnership with AAU 'Jam On It' as the 'official' basketball court flooring.
"To have a world-class organization, which promotes healthy competitive youth sports and right here in our own backyard, is fantastic! It's rewarding to be chosen once again as the AAU Big Mountain Jam's Official sports flooring over all other competitors," said Jorgen Moller – CEO of SnapSports.
SnapSports manufactures 24/7 in their 150,000 square foot ISO 9001:2008 Quality certified facility in Salt Lake City, Utah. SnapSports is the Official Court of AAU Basketball Jam On it, AAU All Under one Roof, The Big South, The United States Futsal Federation, NBA Jam Session, NBA Nation, 2015 NBA House, and USA Team Handball. SnapSports is an official FIBA Technical Partner and has been a proud partner of The Special Olympics, The National Veterans Wheelchair Games, The Volleyball Festival, Gus Macker 3X3, The Vanilla Ice Project, World Police & Fire Games and The National Collegiate Roller Hockey Championship to name a few. SnapSports surfaces are 'Made in the U.S.A. > Played on Around The World™'.