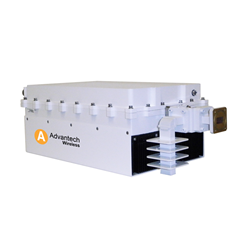 MONTREAL, Canada (PRWEB) June 08, 2015
Advantech Wireless, a global leader for Satellite broadband communications solutions, announced today the release of the Next Generation GaN Technology based 150W Ku-Band BUC.
Designed in a compact weatherproof package the Next Generation GaN based 150W Ku-Band BUC from Advantech Wireless provides higher linearity with higher efficiency. These systems are redundant ready and deliver unmatched performance and reliability.
Major OPEX Savings
"These innovative systems offer the best linearity and intermod performance in the market. It delivers significant savings in electric power usage, physical space and heat generation representing major OPEX savings for our customers." stated Cristi Damian, VP Business Development at Advantech Wireless. "The Next Generation of GaN SATCOM SSPAs continues the development roadmap introduced by Advantech Wireless back in 2010. These 150W Ku-band GaN units provide an impressive 70% reduction in overall size, and 60% reduction in weight, as compared to the first generation GaN products. At the same time, the energy efficiency is improved by an additional 25%."
Combined with the traditional Advantech Wireless features, these new series of BUCs designed for the next generation of High Throughput Satellite Constellations, provide the ultimate in performance and convenience.
About Advantech Wireless
Reliable and secure communication is essential to global productivity, commerce and security. Advantech Wireless makes it possible by designing smarter solutions to help people connect and businesses succeed. With our customized approach, award-winning R&D and innovative engineering, we provide the industry's most advanced technologies, with the most economical total cost of ownership. We empower our clients to achieve excellence in communication, while experiencing reduced CAPEX and OPEX overall. Ultimately, our uncompromising quality and bolder thinking enable us to provide clients around the globe with smarter terrestrial and satellite communication solutions.