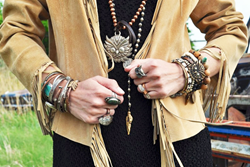 "From the beginning, everything about Love Tokens Jewelry captured my attention and I was confident our customers would appreciate the creativity and talent that was so evident in this designer."-Jana Contardi, co-founder of Peace, Love & Decorating
(PRWEB) June 09, 2015
Peace, Love & Decorating is excited to announce the inclusion of Love Tokens hand-crafted jewelry collection. Love Tokens fine jewelry pieces, designed by life-long artist Stacey DeGraffenreid, are hand-made in their shop in Oklahoma and pair well with other apparel items in Peace, Love & Decorating. Love Tokens range from fun and casual to elegant and exquisite. The favored metals are sterling silver and hand-sculpted bronze. A multitude of necklace, bracelet, and earring designs are made from turquoise, freshwater pearls, labradorite, ruby, quartz, amethyst, pyrite and other high-grade stones.
"We don't think accessories should reflect the cold lifeless stamp of a machine. We believe jewelry should echo souls and heartbeats", explains jewelry designer Stacey DeGraffenreid. Her inspiration came from handed down medals and art deco jewelry, sparking her interest in vintage pieces, specifically with catholic medals, rosaries, and Native American crosses. Her collection of these pieces grew tremendously and Love Tokens was born. The intricate jewelry has become so popular in the last twenty-five years that Love Tokens expanded from 50 designs to over 5,000 and Peace, Love & Decorating carries over 200 of these items.
Some of Peace, Love & Decorating stylists' favorite Love Tokens items are the variety of pearl necklace designs. Most are uniquely handcrafted with crosses and repurposed antique pendants, others are perfected with hand cut and dyed deer lace tassels. One of Love Tokens claim to fame is the "Bohemian rosary". These ethnic pieces can be seen accenting a copper Indian head penny and a sterling silver cross. Elegant turquoise cabochons are featured in many of Love Tokens uniquely designed pieces and all jewelry is finished on both sides. Peace, Love & Decorating is excited to feature Love Tokens Bohemian style through their detailed, one-of-a-kind jewelry.
Peace, Love & Decorating, founded by Jana Contardi and Jennifer Cook, is online at http://www.peaceloveanddecorating.com or visit the retail brick and mortar store located just thirty minutes north of Atlanta. Offering the top boutique brands of handcrafted women's jewelry, home décor, designer lighting, vintage style bedding, luxury bath and body products, and Old World Christmas and holiday décor. The unique retail store is in a century old building in the historic section of downtown Duluth at 3129 Main Street, Duluth, Georgia.