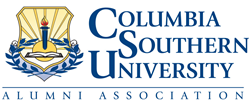 Orange Beach, AL (PRWEB) June 08, 2015
June 27, 2015 will mark an historic day for Columbia Southern University (CSU) as the university will install its first regional alumni chapter.
Boasting a chapter membership of approximately 125 members, the Atlanta Chapter of the CSU Alumni Association will have a chartering luncheon at 11:30 a.m. Cellar 56, 56 E. Andrews Drive NW in the Buckhead suburb of Atlanta. Vice President of University Relations Billy Hayes will present the leaders and members of the chapter with the charter. A reception follows at 1 p.m. and all CSU students and alumni in the Atlanta area are invited.
"We are so thrilled about this historic news," said CSU Alumni Association President Ralph Blessing. "The interest in creating this alumni chapter has been phenomenal for a year now. I am so proud of the members for supporting this chapter and expect it to be the first of many more chapter to come."
Mark Briscoe, of the CSU Student and Alumni Engagement Department, echoed Blessing's enthusiasm. "CSU is one of the few online learning institutions that has developed a regional alumni chapter network, which illustrates our exceptional service model," he said.
"A regional network of alumni chapters allows our alumni to network on a more personal basis in their hometown area. It also provides the opportunity to continue their ties to CSU as their membership participates in alumni events," Briscoe added.
Steering the Atlanta chapter are President Robert Hare, Vice President Charlene Brown and Secretary Benjamin Goings.
For more information about this event, visit this link or email CSU-Alumni(at)ColumbiaSouthern(dot)edu.
CSU offers online associate, bachelor's, and master's degree programs in various fields including criminal justice, fire administration, occupational safety and health, and business administration. If you would like learn more about CSU, please visit http://www.ColumbiaSouthern.edu.