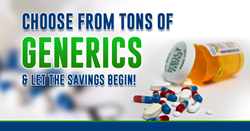 (PRWEB) June 09, 2015
ParagonMeds is a nationwide pharmaceutical distributor located in Weston, the heart of South Florida, and has been successfully in business for over 16 years. We are proud to announce the opening of a new distribution center in Memphis, Tennessee. It is scheduled to open during the first quarter of 2015. The distribution center will be using cutting-edge technology and will significantly improve logistics as well as meet the demand of our growing customer base.
Rudy LaVecchia, President and CEO, is "Very excited to announce the launch of a new distribution center in Tennessee. This new facility will enhance our logistic capabilities and better facilitate our customers evolving needs. Not only that, but we are also helping Tennessee's local job market by bringing in a new workforce."
About ParagonMeds:
ParagonMeds, a Paragon Enterprise Incorporated Company, is a nationally full service pharmaceutical company with a focus on providing high quality service and affordable products. Our leadership with over 16 years of pharmaceutical market experience understands our customer's business, which allows Paragon the ability to provide unique models to help drive their success. Paragon, was founded in 1999, had the initial concept of establishing a premier pharmaceutical drug distributor in the Southern United States and we are now servicing and distributing nationwide. Our experience and knowledge affords us the ability to have one of the largest widths of products in the industry and affordable pharmaceutical and medical supplies at the same time.
ParagonMeds product line includes brand and generic pharmaceuticals, medical and surgical products, injectables, back-order medications, vaccines, ostomy and urological products.
ParagonMeds is headquarter in Weston, Florida.
For more information visit http://www.paragonmeds.com