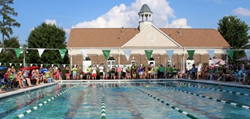 We value our clients immensely, take a personal interest in understanding their business and celebrate their successes
Indian Trail, NC (PRWEB) June 10, 2015
Carlini, CPA, PLLC has sponsored the Lake Park Piranhas swim team for the 2015 season. Carlini CPA, PLLC is a full service accounting firm in North Carolina serving Indian Trail, Monroe, Matthews, Charlotte and surrounding areas. With 40 years of experience, the company's services include accounting, tax return preparation, QuickBooks consulting, training, and implementation services.
Jeff Carlini of Carlini CPA states, "Carlini CPA believes in supporting our local community and swimming is a great way for kids to stay active during the summer and compete in a healthy environment".
Carlini CPA, PLLC is a CPA firm located in the Charlotte, NC region provides Audit, Bookkeeping, Tax, QuickBooks and Business Consulting Services. Mr. Jeffrey Carlini, CPA, CFE states, "We value our clients immensely, take a personal interest in understanding their business and celebrate their successes". Visit the company's website at http://www.carlinicpa.com.
To learn more about the Lake Park swim team and the other great sponsors visit https://lakepark.swimtopia.com/