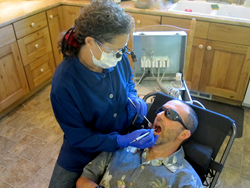 Independent Registered Dental Hygienists safely provide preventive services to those unable to go to a dental office.
Napa, California (PRWEB) June 08, 2015
A rampant disease is occurring in our nation that if left untreated, can and does lead to death. What is that disease? Dental decay. Ninety-one percent of Americans have experienced dental decay. Twenty-five per cent is left untreated, allowing the disease to advance to a painful, life-threatening infection, leading to lost hours at work and school.
http://time.com/3856212/cavity-tooth-decay/
Emergency rooms are impacted everyday with patients who have this disease. During a recent 18 month period in Washington State, the cost of emergency room visits for dental pain was $36 million. Had preventive measures been applied years before, those visits could have been prevented. Care in emergency room will relieve immediate dental pain but they do not treat this chronic disease or give preventive tools to the patients. Left untreated, tooth infection will continue and advance. http://www.wsha.org/files/127/ERReport2.pdf
In many states, yearly mobile volunteer clinics try to help the underserved. These clinics address diseases rather than prevention, yet regular preventive care is the best way to inhibit the overwhelming amount of dental disease. This system does not allow for prevention or continued care. All patients deserve a permanent dental home. Regular preventive care to reduce the overwhelming amount of dental disease is a concept supported by the American Dental Association. http://www.ada.org/en/press-room/news-releases/2015-archive/may/new-cdc-data-on-adult-cavities
By 2020, the number of dentists working is expected to decrease to 55 per 100,000 people. It is expected that there will be 20% more Registered Dental Hygienists. http://www.nga.org/files/live/sites/NGA/files/pdf/2014/1401DentalHealthCare.pdf There is an access problem and it is a fact that there are far more educated and qualified Registered Dental Hygienists to be part of the team working to help meet these unmet needs and implement continued preventive care.
"Despite all the advances in our ability to prevent, detect and treat dental disease, too many Americans—for a variety of reasons—are not enjoying the best possible oral health," said ADA President Dr. Maxine Feinberg. Dr. Feinberg emphasized the ADA's belief that prevention is the ultimate answer to eliminating the vast majority of dental disease. http://www.ada.org/en/press-room/news-releases/2015-archive/may/new-cdc-data-on-adult-cavities The American Dental Hygienists' Association echoes these same sentiments. http://www.adha.org/resources-docs/ADHA_Dental_Caries_Prevention_Press_Release_5-15-15.pdf
The Dental Hygienists' Alliance strongly supports the Dental Hygienist as the healthcare provider best suited to fill the disease prevention role. The Dental Hygienist, with over 3000 hours of college education and required continuing education, is the preventive expert. http://www.adha.org/resources-docs/72611_Dental_Hygiene_Education_Fact_Sheet.pdf
A study found that there was equal or better quality of care between treating patients in an independent dental hygiene practice as compared to a private dental practice. Additionally, independent Dental Hygienists were able to provide more services to Medicaid patients. Another study showed that Dental Hygienists' who are present in schools, treating children over a twenty year span dramatically reduced early childhood caries and smoking rates. Patients in skilled nursing facilities, hospital and the homebound are also more vulnerable to disease and need the services of a registered dental hygienist. http://www.biomedcentral.com/content/pdf/1472-6831-6-S1-S7.pdf In states where laws have been changed to allow direct access to care from a hygienist, there has been a positive impact on oral health and prevention, reducing funds spent on fixing problems and emergency care. http://www.ncbi.nlm.nih.gov/pmc/articles/PMC3392035/
The value of a hygienist is very clear. Many states do not allow direct access to a Dental Hygienist. Ask your Dental Hygienist about the laws in your state. The Dental Hygienists' Alliance requests you contact your legislator and let them know you want direct access to a Dental Hygienist.