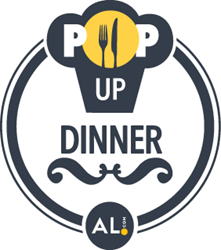 Birmingham, AL (PRWEB) June 09, 2015
AL.com will start surprising and entertaining foodies by hosting a series of pop up dinners across the state. Their first ever pop up dinners will be happening in Birmingham on June 25 and Mobile on June 27. The locations of the dinners, which are intentionally being kept a secret, will be revealed to attendees on June 11. General tickets are $75 per person and AL.com members can receive a complimentary ticket with purchase of a ticket. Additional information can be found at al.com/popupdinner.
The mystery pop up dinners will be a whole experience for attendees; complete with food from up and coming Southern chef Lulu Chustz, signature cocktails and live music in a unique non-restaurant location. Chustz, a Louisiana native, will be preparing a five-course meal for guests of the event.
"For the last several months, I've been working mostly in the Northeast Region. I'm so excited to be doing dinners back in the South. My background is deeply rooted in southern cuisine, so I'm hopeful that Birmingham and Mobile can spot those influences in the playful menu I'll be presenting," says Chustz.
150 seats available are available at each event. The first two dinners in Birmingham and Mobile have a registration deadline of June 22. The Birmingham event will feature special selections of Good People Brewery's craft beers, paired especially for AL.com's Pop Up Dinner.
The pop up dinner movement, which initially started in 2011, is intended to promote and celebrate food culture. In just a matter of hours, a non-restaurant space gets transformed into a whole new dinner venue. Attendees get the opportunity to interact in a new communal dinner setting, meet people they otherwise may not have, and have the chance to meet and talk with the featured chef.
For more information on the chef and the AL.com Pop Up Dinner experience, visit al.com/popupdinner.. Stay up to date on the reveal of the menu, signature cocktails and locations by following AL.com on Facebook. Be a part of the conversation on social media by following and using #ALPopUpDinner.
About AL.com
AL.com is Alabama's number one news and information site and a part of Alabama Media Group. Alabama Media Group is a digitally focused news and information company that combines the quality journalism of The Birmingham News, The Huntsville Times, Mobile's Press Register and The Mississippi Press with up-to-the-minute access of AL.com and gulflive.com.
About Alabama Media Group
Alabama Media Group is a subsidiary of Advance Publications, Inc., a privately held communications company that owns Advance Digital, Condé Nast Publications, Parade Publications, Fairchild Fashion Group, American City Business Journals, Inc., Golf Digest Publications and more than 25 newspapers across the country. Their mission is to provide innovative ways to inform, connect and empower the people of Alabama and the communities they serve.
###