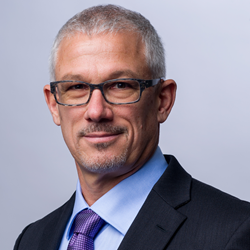 Frank's proven track record of success in for-profit companies, and most recently as president and CEO of the Outdoor Industry Association (OIA), make him ideal for leading RVIA.
Reston, VA (PRWEB) June 08, 2015
Frank Hugelmeyer has been named the next president of the Recreation Vehicle Industry Association (RVIA) and will officially take the seat on October 1 after current president Richard Coon retires from his service in that position for the past 10 years.
After an extensive search over the past several months, the RVIA Presidential Search Committee recommended, and the RVIA Board of Directors approved, the hiring of Hugelmeyer during the association's Committee Week meetings, held May 31 – June 4 in Washington, D.C.
RVIA Chairman of the Board Derald Bontrager, president and CEO of Jayco, Inc., who led the search committee, said, "Frank's proven track record of success in for-profit companies, and most recently as president and CEO of the Outdoor Industry Association (OIA), make him ideal for leading RVIA into the future."
Bontrager also commented that he is excited to work with Hugelmeyer saying, "He is passionate about and loves the outdoors and is a strong advocate for all outdoor recreation segments working together, along with our legislators, to protect and enhance the consumer experience."
When asked about his new role, Hugelmeyer said, "I am enthusiastic to join, and work for, such a highly respected association as RVIA. It is a special opportunity to combine my professional expertise with the outdoor recreation lifestyle that I personally enjoy."
Hugelmeyer continued, "RVIA is a strong organization with an important mission. From connecting more people to meaningful experiences through Go RVing to providing innovative solutions for increasingly mobile customers, RVIA members have a bright future. I look forward to working with the talented board, management team and staff to help the association deliver outstanding value to our members."
From 2000-2014, Hugelmeyer was the president and CEO of OIA, the association of the outdoor recreation industry based in Boulder, CO. In this capacity, Hugelmeyer worked with the world's premier outdoor brands and business executives in the areas of recreation economics, public lands policy and consumer trends.
Since November 2014, he has been president of Recreation Influence Strategies LLC, a Denver-based management consulting firm where he has been recognized internationally as a leading expert on outdoor recreation business and consumer trends. As such, he's consulted regularly with companies that include The North Face, Patagonia, Timberland, L.L. Bean, REI and Amazon, along with numerous governmental agencies, non-profit groups and foundations.
In addition, he has served on a wide variety of boards and advisory groups including the Outdoor Foundation, National Forum on Children and Nature, Sustainable Apparel Coalition, Theodore Roosevelt Conservation Partnership, Western Governors' Association Recreation Task Force and President Obama's Partnership for America's Great Outdoors.
Hugelmeyer will assume the position of president-elect on July 13 to work with Coon during a period of transition and will officially take over on October 1.
Coon announced his retirement in March. He has been RVIA's president since January 2006. Prior to joining the association, he enjoyed a 30-year career in the RV industry, including his role as Director of RV Business for Cummins Power Generation.
As RVIA president, Coon spearheaded initiatives to expand and improve technician education; create global opportunities for RV manufacturers and suppliers; create a unified North American RV market by harmonizing marketing efforts and RV standards between the United States and Canada; upgrade the RVing experience for customers; better relations with RV dealers and the campground industry; and welcome park model RV manufacturer members back into RVIA. He successfully steered RVIA and the industry through the biggest economic downturn since the Great Depression, and leaves the association in a strong financial position.
"In the 10 years under Richard's leadership, RVIA has made great strides on many fronts and weathered the Great Recession," said Bontrager. "Richard was the right man at the right time. Knowing Richard, I don't think retirement means he's slowing down. He will be greatly missed, and we wish him well."
"Taking the position of RVIA president back in 2006 has proven to be one of the best decisions of my professional career, and I'm really proud of all we've accomplished," said Coon. "RVIA is made up of a great group of volunteer members and a staff of dedicated employees who work so well together to advance the success of the RV industry. It has been a great ride, and I look forward to watching the association and industry continue to flourish in the years to come under Frank's leadership."
The Recreation Vehicle Industry Association is the national association representing approximately 400 manufacturers and component suppliers producing 98 percent of all RVs made in the United States.