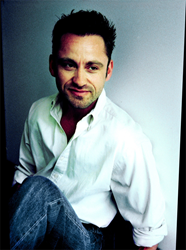 I could not put it down -- it is beautifully written, truthful – the words come from the right place." Kathleen Caldwell, A Great Good Place for Books
SAN FRANCISCO, Calif (PRWEB) June 09, 2015
Dhillon Khosla, a former Federal Attorney, was born into the body of a woman, but he knew early on that his true identity was male. He spent almost twenty years repressing this knowledge before he endured multiple, complex, even life-threatening surgeries, transforming him physically and emotionally—all while serving as a staff attorney for presidential-appointed judges.
Both Sides Now offers a rare glimpse into what it is like to live a life in each gender, and the many ways we contribute to the gender divide. It is the courageous and heart-wrenching story of one man's decision to risk it all to be true to oneself, despite seemingly insurmountable constraints.
Since the first release of his memoir in 2006 (Penguin/Tarcher), Khosla has been interviewed by major media outlets, including Fox News, CNN, CNBC and MSNBC. He also granted an exclusive, full-segment interview to ABC's The View, and subsequently received unanimous praise for his warmth and intelligence.
His lectures for university, government, legal, community and corporate groups have drawn audiences from all political and religious backgrounds, and Khosla made history when he was the first transitional speaker ever invited to keynote an event at the University of San Diego, a Roman Catholic institution.
"Keen observation, warmth, and humor make Khosla's journey most readable." Booklist
"For its wealth of detail, as well as its compelling and inspiring narrative, this work belongs on the shelves of both public and academic libraries." Library Journal
About Dhillon Khosla
Dhillon Khosla was born in Brussels, Belgium, to an East Indian father and a German mother. After spending his childhood in Europe, he completed his education in the United States, earning degrees in both psychology and law, graduating valedictorian of his law school class. For over fifteen years, he served as a judicial staff attorney to presidential-appointed judges, and lectured on complex areas of criminal law. He lives in Northern California.
For more information, including videos/pictures visit http://www.dhillonkhosla.com.
About Untreed Reads
Untreed Reads, LLC, is a San Francisco based publishing company dedicated to bringing the best new fiction and nonfiction print and ebooks to readers around the world. Ebook versions of works by Untreed Reads are downloadable to computers, mobile devices and dedicated ebook readers. Purchase from the Untreed Reads store, http://store.untreedreads.com/, or anywhere paperback and ebooks are sold.
Contact: Jay Hartman, jhartman(at)untreedreads(dot)com, 510-861-0663
###